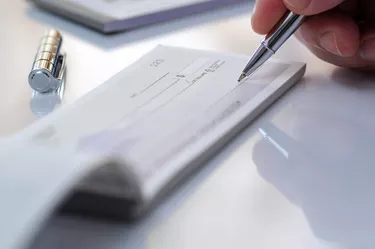 Bankrate reported on a study ranking the best and worst states for drivers in May 2020, and New Jersey received the dubious honor of being the fourth-worst. Jersey drivers have a reputation for being, well, aggressive. To be fair, the toll systems on this state's highways can put anyone on edge.
The South Jersey Transportation Authority and the New Jersey Turnpike Authority oversee the three major state highways: the Parkway, the Expressway and the Turnpike. Each sets its own tolls and has its own rules., but one rule is universal: You can pay tolls by mail in New Jersey if you missed one, but don't send cash. Unfortunately, credit cards are taboo as well, at least on the Expressway.
Garden State Parkway Tolls
The Parkway falls under the jurisdiction of the New Jersey Turnpike Authority. It runs north-south from Cape May to the New York state line, close to the coast. You'll encounter toll plazas on the roadway, and also on the on- and off-ramps.
A camera will catch the event, along with your license plate number, if you pause at any of these tolls to scramble for cash or if you zoom right on through. The NJTA with obligingly mail you a toll violation notice, which you can send along with your payment to the New Jersey Turnpike Authority, ATTN: Finance, P.O. Box 5042, Woodbridge, NJ 07095.
New Jersey Turnpike Tolls
This route also runs north-south, but along the west side of the state – at least until you get halfway to New York. Then it transverses to the east side toward New York City.
The Turnpike is overseen by the NJTA as well, and the procedure for paying a missed toll is the same as that for the Parkway. Send a check, cashier's check or money order to the Woodbridge address, ATTN: Finance. Unfortunately, you can't pay Garden State Parkway or New Jersey Turnpike tolls online unless you have E-ZPass.
You can also call NJTA Customer Service at 732-750-5300, Ext. 8750, if you receive a pay-up-or-else notice but you don't believe you're guilty of a toll violation.
Atlantic City Expressway Tolls
The Expressway links the Philadelphia area with South Jersey, and it's maintained by the South Jersey Transportation Authority. The SJTA is a little less forgiving when drivers fail to pay their tolls. You have only 48 hours after the event – and, yes, there are cameras here to catch you, too – to pay up before the SJTA will issue you a traffic summons complete with a court date.
The SJTA does make it easy to pay up to avoid that summons, however. You can simply keep driving on the Expressway until you reach a barrier toll plaza and pay up there if the toll you missed was one of those on an on-ramp. Pleasantville and Egg Harbor both have toll plazas in both directions.
Your other option is to go to the Frank S. Farley Service Plaza at milepost 21.3. It's open 24/7 and there's an ATM in the food court if you don't happen to have cash, a check or a money order handy. Or you can snail-mail your payment to the SJTA at P.O. Box 351, Hammonton, NJ 08037. Again, it must be a money order, check or cashier's check. Be sure to note the date and time of your violation, as well as your license plate number, including the state.
The rules are somewhat different if you're a New Jersey E-ZPass holder. This involves setting up an account with E-ZPass and attaching a tag responder to the top of your front windshield. The tag is scanned as you drive through a dedicated E-ZPass toll lane, and payment is automatically debited from your account.
Of course, this presumes that you have sufficient funds in your account to cover the charge, that you're actually in an E-ZPass lane and that your tag is in the proper place. You can check the status of your account by calling E-ZPass Customer Service at 888-288-6865. You can also pay online at the E-ZPass New Jersey website.
Adjustments During COVID-19
There are rules during normal times, and then there are rules during the 2020 coronavirus pandemic. Effective March 25, 2020, New Jersey toll plazas were no longer manned by real, live people to collect your money. You could throw change into the toll well in some locations, but your license plate would just be scanned and you'd receive an invoice in the mail in others. Drivers on the Turnpike and Parkway were directed to use the E-ZPass lanes for this purpose, even if they didn't have an account.
Things opened up again on May 20. Cash tolls are back and toll collectors are present, albeit gloved and masked.