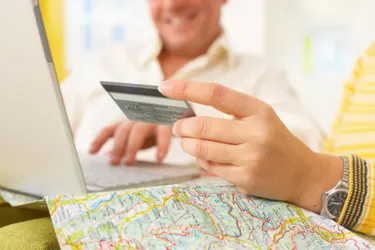 Blowing a toll, even by accident, will get you a big, fat fine. If the toll authority can't get hold of you, the fine will get bigger and bigger as interest penalties add up. All told, this situation could turn into a bona fide financial and logistical nightmare that could haunt you for months or even years.
Even if you have a sticker or other sensor (such as an E-ZPass transponder) on your windshield that lets you go through the fast lanes on tolls, hiccups with your payments can occur, causing you more problems. This can include getting tickets by police if they run your license plate after pulling you over for something else.
Understanding how to keep your payments going through and how to do an E-ZPass credit card update will help you avoid these headaches.
E-ZPass is a program that lets you attach a transponder to the inside of your windshield and skip stopping at toll booths. When you have an E-ZPass transponder, you can continue driving at your normal speed with other cars going through the E-ZPass lanes.
After you sign up and pay to "load" your E-ZPass account to pay for tolls, you can provide the system with your credit card information. As you run out of money in your account, E-ZPass will charge your credit card and add more money to your account to pay for tolls.
Visit the E-ZPass website and click on Get E-ZPass. Follow the directions, choosing from among a variety of states, toll authorities and other toll road locations where you travel the most. You will be taken to a new website where you'll create a new account and set up your payments. Make sure you have your vehicle license plate number – you can't share your E-ZPass with multiple drivers and vehicles.
According to the E-ZPass Frequently Asked Questions page, if you want to change your credit card or update your current card's information, you must go to the website of the agency and go to the account management or Contact Us area. Depending on your agency's system, you can update your card information online or get help from a customer service representative.
Keep Your Contact Info Current
Make sure your contact information with the E-ZPass system is current. This will ensure that you receive notices about your pass and credit card. For example, you might get a new credit card with a new expiration date and your E-ZPass information will no longer work for processing E-ZPass recharging.
E-ZPass might be phasing out the transponder you have and the issuer might send a new one to the address you used to sign up years ago. If you've moved since then, you might not get your new transponder or other important notifications and will be driving with an expired E-ZPass.