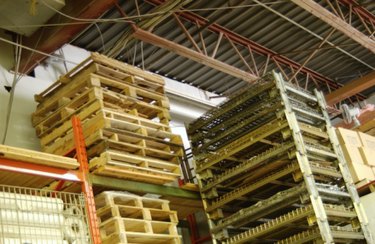 Fences serve a variety of purposes. Some homeowners need privacy while others just want to mark a border. Others use fences for decorative purposes while animal owners need a barrier to keep their livestock from escaping. Many resourceful options exist for anyone looking for an economical, do-it-yourself approach to building a wood fence. After setting milled fence posts in simple, gravel footings, choose from a variety of inexpensive materials to use as the actual fencing.
Step 1
Outline the desired fence path with stakes and string.
Step 2
Excavate 2-to 3-foot-deep, 10-inch-wide post holes with a post hole digger. Post hole spacing depends on the fencing material being used. Fill the holes with 6-inches of crushed rock. Tamp the rock with the butt of a 2-by-4.
Step 3
Set posts into the holes. Temporarily nail two legs of scrap wood to the centers of the posts to prop them up. Place a level vertically along the sides of posts to ensure they are plumb. Measure between posts to make sure the center-to-center distance measurements are the same. Fill crushed rock around the fence posts. Double-check for plumb, remove the legs and pack the gravel with the board. Cover the gravel with a layer of packed soil.
Step 4
Make marks at the tops of the posts at the desired height. Stretch and snap a chalk line across the marks. Cut of the tops of the posts, along the chalk line, using a circular saw.
Step 5
Screw found or inexpensive fencing material between the posts. Fencing options include wooden pallets, dried branches, split rails, old barn boards, bamboo, reclaimed lumber from a construction site, cut strips of plywood or lath strips. Attach wooden pallets between posts with the boards positioned vertically, to mimic a picket fence. Attach branches, rails, boards or strips horizontally, screwing the ends to the posts. Space these items far apart for an open, post and rail-style fence, or put them close together or double them up by screwing them on both sides of posts for added privacy or protection.
Step 6
Paint any unfinished wood with wood sealer or primer and paint to protect the wood from weather.
Things You'll Need
Wood sealer or primer and paint

Paintbrush

Wooden stakes

String

Posthole digger

Crushed rock

2-by-4 inch board

4-by-4 inch rot resistant fence posts

Scrap boards

Hammer

Nails

Snap chalk line

Circular saw

Drill

Corrosion resistant wood screws