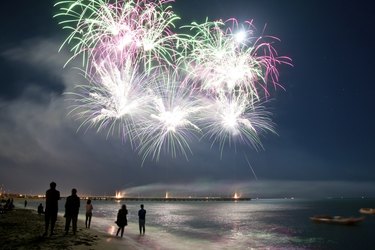 The State of Illinois has a public safety interest in regulating the manufacture, sale and use of fireworks, pyrotechnics and other incendiary devices. At the state level, the government authority that provides oversight of fireworks and pyrotechnics is the Office of the State Fire Marshal. The State Fire Marshal offers five separate licenses: pyrotechic distributor, outdoor professional, proximate audience and limited proximate audience and flame effect licenses. The state charges a fee of between $100 and $500 for each license.
Step 1
Download the fingerprint and criminal background check information sheet from the link on the Illinois State Fire Marshal website. Fill out the form on Page 3. You will need a drivers license or other form of identification.
Step 2
Get fingerprinted. All Illinois pyrotechnic licensees must submit a fingerprint card to the Illinois State Police, which will then run the fingerprints against a law enforcement database as part of a criminal background check. If a company is applying for a pyrotechnic distributor license, each officer of the company must submit a fingerprint form. You can submit a form through one of three investigative services contractors: Art's Investigations; FIRM, Inc.; or Identix Identification Services. Each firm has offices throughout the state. There is a fee to submit a fingerprint card, which varies by contractor.
Step 3
Complete an approved course of instruction from the Illinois Department of Natural Resources. The IDNR sponsors classes on environmental considerations, environmental impacts and safety considerations of using pyrotechnics and fireworks. Depending on the license you are applying for, you must obtain an individual explosive license from the Department of Natural Resources.
Step 4
Download and fill out the appropriate pyrotechnics license application from the Illinois State Fire Marshal website.
Step 5
Mail the completed form to the following address, being sure to include any applicable licensing fees:
Office of the State Fire Marshal Attn: Pyrotechnic Licensing Division 1035 Stevenson Drive Springfield, IL 62703-4259