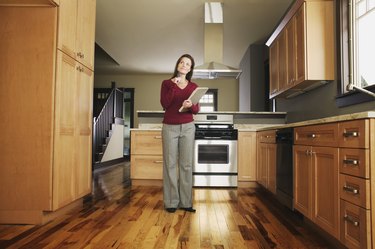 Functional utility is a prescribed element included in a professional real estate appraisal. Appraisals analyze the features of the home and determine its functional utility, or its ability to adequately provide for its intended purpose. A home should generally provide adequate living conditions. A commercial property is evaluated on a number of traits to determine whether the property makes for an effective business establishment.
Real Estate Appraisals
Real estate appraisals are professionally developed estimates of a property's value. Buyers of a property typically pay for an appraisal as part of meeting lender requirements for an acceptable appraisal value. Cost approach, sales comparison approach and income approach are three basic techniques used to arrive at an estimate of value. Cost and sales comparison are common in residential appraisals, whereas income approach is common to commercial properties.
Functional Utility in Real Estate
In his March 2005 Mortgage Daily News article "Appraisal 101 - How a Appraiser Attaches Home Value," Glenn Setzer offers a couple common questions used by appraisers to determine functional utility of a property. "Is the property inhabitable? Might it have a higher and better use?" For a residential appraisal, the question is whether the property provides reasonable living conditions to have a particular value. The second question relates to whether a given property may have a higher value for a different function, such as converting a residential property into a commercial property.
Commercial Property Functional Utility
Whether attempting to convert a residential property into a business or buy a pre-existing commercial property, appraisals for commercial property functional utility include a wide range of considerations. Appraisers consider column spacing, bay depth, live-load floor capacity, ceiling height, module width, elevator speed, capacity, number, and safety, level of finish, energy efficiency and parking when applicable. The more suitable these features are to business operations, the better the functional utility.
Functional Utility Impact
The overall effect of functional utility on property value varies. When appraisals compare one property to several others, functional utility is just one of the many categories used for comparisons. If each residential or commercial property has generally acceptable and relatively similar functional utility, its impact on value is minimal. In instances where functional utility is deemed as limited or impractical relative to comparable properties, a significant drop in property value is possible.