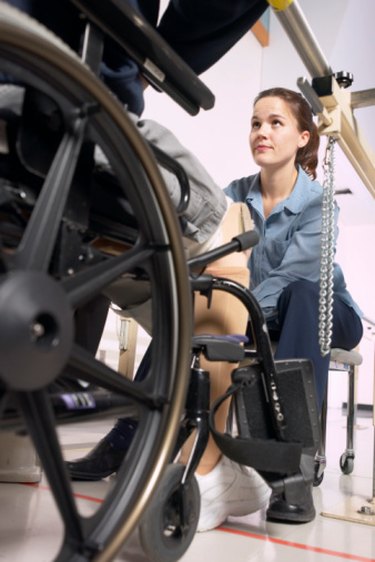 Caregivers – also called personal or home health aides – assist with the day-to-day tasks of caring for elderly or disabled adults in the patient's home or a residential health-care facility. Typical duties include cleaning, ensuring patients take their medication and helping them perform everyday tasks such as shopping. They keep a log book of a patient's activities and liaise with other health-care personnel such as nurses and occupational therapists. A caregiver's salary will depend upon where and for whom she works.
Average Pay
From wage data collected from over 600,000 individuals working as caregivers throughout the United States, the Bureau of Labor Statistics calculated that the average yearly salary for the role was $20,280, equivalent to $1,690 a month and $9.75 an hour. The highest earners – those in the top 10 percent – received an average wage in excess of $25,890, while those in the bottom 10 percent earned less than $15,300 on average.
By Industry
The BLS survey found that the vast majority of caregivers were employed within either individual and family services or home health care services. It gave the average salaries in these sectors of the health-care industry as $20,650 and $18,670, respectively. Positions within vocational rehabilitation services offered an average salary of $21,320, while those in residential mental retardation, mental health and substance abuse facilities were listed at $21,430. Some of the highest averages were within psychiatric and substance abuse hospitals -- $28,870 – and state government agencies -- $28,370.
By Location
Pay comparison website SalaryExpert found significant differences in caregiver wages when it surveyed pay levels in some large U.S. cities. For instance, while New York was listed at an average of $25,445 and Boston at $24,473, Dallas had an average rate of $17,474 and Miami of just $17,084. The bureau listed Alaska and New Jersey as the most lucrative states, across all industry sectors, for a caregiver to work in, averaging $29,470 and $27,590, respectively, while New Mexico was reported at just $18,710.
Prospects
The Bureau of Labor Statistics expected employment opportunities for caregivers to grow by around 46 percent over the decade from 2008 to 2018. This is much faster growth than that predicted for the country as a whole; between 7 and 13 percent for the same period. An aging population requiring more care services, and the relative cost-effectiveness of residential, as opposed to medical facility, care will fuel this growth. Combined with expectations that there will be more vacancies than candidates to fill them, salary levels should remain extremely competitive.
Certification
The BLS reports that caregivers working for agencies that are linked to Medicare or Medicaid must complete both a training program of a minimum of 75 hours and a competency evaluation or state certification program. For other caregivers, certification requirements will vary from state to state, although the federal government demands that all caregivers receive a minimum of 16 hours supervised training before undertaking direct contact with a patient.