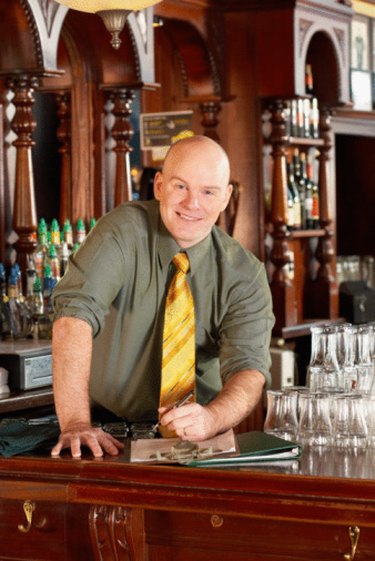 Bartenders serve people beverages. Taking orders directly from customers or from wait staff, they pour, pull and mix drinks. They keep the bar area well stocked with drinks and snacks, keep their work station clean and presentable, and ensure that all patrons are of legal drinking age. Wage levels for the occupation vary according to factors such as location and employer type.
Average Pay
Having collated data from almost 500,000 people working as bartenders across the country, the U.S. Bureau of Labor Statistics calculated that the average yearly wage for the profession was $20,970 as of May 2009. This translates into a monthly income totaling $1,748 and an hourly pay rate of $10.08. Top earners, those within the highest 10 percent, received an average wage in excess of $31,420. Those in the bottom 10 percent earned less than $15,240, on average. Bartenders may receive customer tips to augment their basic pay.
Pay by Industry
The two primary sectors of the food and beverage service industry in which bartenders are employed are full-service restaurants and drinking establishments. The BLS reports that the average annual salary in these sectors is $21,680 and $19,480, respectively. Within civic and social organizations, that average is given as $18,590, while within traveler accommodation, it is $25,430.
Pay by Location
The geographical locale in which a bartender works is likely to affect her salary. In a survey of wage levels in some large cities, SalaryExpert.com found that New York, Boston and Los Angeles had, across all industry sectors, some of the highest averages -- $26,777, $26,761 and $25,366, respectively. In contrast, Phoenix was listed at $22,519 and Orlando at $21,501. The BLS stated that Hawaii, Washington and Vermont were among the states in which salaries were highest, averaging $28,780, $27,740 and $26,910, respectively. North Dakota averaged $17,400.
Prospects
Employment opportunities for bartenders should, according to Bureau of Labor Statistics predictions, increase by approximately 10 percent over the period from 2008 to 2018, in line with expectations for the country as a whole, projected to be between 7 and 13 percent over the same period. The increase in opportunities will be caused by population growth demanding more food and beverage services, and the high turnover of staff that the occupation experiences. As such, salary levels should remain reasonably competitive.