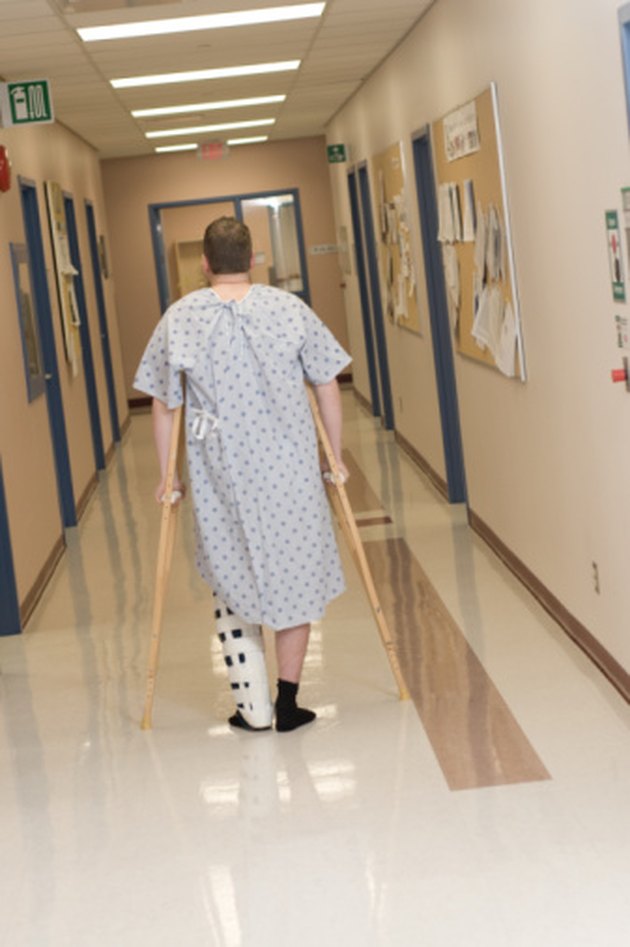 Patient care assistants are more commonly known as nursing aides or nursing assistants. They provide patient care in medical and care-provision facilities. Their duties typically include changing bedding, transporting patients from one part of the facility to another, bathing patients and helping them with meals, as required. Aides also assist nurses and doctors with physical examinations and the administration of medication. Salary levels reflect the auxiliary nature of the role and are affected by factors such as location and employer type.
Average Pay
In May 2009, the U.S. Bureau of Labor Statistics published a national survey of employment and wages. It stated that the average hourly pay rate for a nursing aide was $12.01. This translates to a monthly salary of $2,082 and an annual average of $24,980. The bureau also reported that assistants among the top 10 percent of earners received an average of more than $16.33 an hour, while their contemporaries in the bottom 10 percent earned less than $8.42, on average. The bureau's figures tally with those produced by wage analysis website PayScale in April 2011, which placed the average hourly rate at between $8.43 and $14.18.
Pay by Industry
The bureau also detailed average pay rates for patient care assistants across different sectors of the health-care industry. Nursing care facilities employed the majority of practitioners, and provided average pay of $11.58 per hour. Positions within general medical and surgical hospitals paid an average of $12.76, while those in community care facilities for the elderly were listed at $11.21. Home health care services paid assistants an average hourly rate of $11.09, compared with $13.05 within local government agencies.
Pay by Location
Location also impacts upon a care assistant's wage level. According to the bureau, across all industry sectors, rates in 2009 were highest in Alaska and Nevada, averaging $15.57 and $14.89 per hour, respectively. In contrast, Mississippi was listed at just $9.44 per hour. At the metropolitan level, the bureau listed the San Francisco-San Mateo-Redwood City area of California as the most lucrative, with an average pay rate of $17.74, while Lewiston, Idaho, had an average of just $10.15.
Prospects
The Bureau of Labor Statistics predicts that job opportunities for nursing aides will grow by approximately 18 percent between 2008 and 2018. This is significantly faster than average job growth for the country as a whole, expected to be between 7 and 13 percent over the same decade, and will be fueled primarily by the long-term care needs of an aging population. The bureau also expects that vacancies will outnumber suitable candidates to fill them, meaning wage levels should remain very competitive.