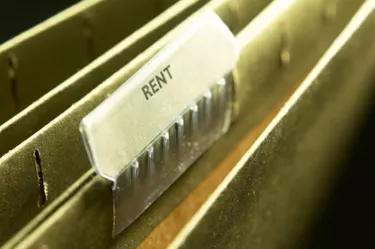 The Federal Housing Administration helps borrowers with low and moderate incomes by offering flexible qualifying guidelines and minimal down payments. An agency within the Department of Housing and Urban Development, FHA insures mortgages, reimbursing lenders in the event of homeowner default. FHA programs, which are intended for owner-occupants, also allow borrowers to rent out a separate unit on the property, be it a duplex, triplex or four-unit; however, a rental income factor applies.
The Basics
FHA requires borrowers to present Schedule E of IRS Form 1040 and current leases or rental agreements to verify rental income.
Rental income factors apply to single-family, one- to four-unit dwellings. It measures gross rental income as a percentage, accounting for potential vacancies, the cost of maintenance and non-collection of rent that landlords face from time-to-time.
FHA abides by the appropriate regional HUD Homeownership Center (HOC) vacancy and maintenance factor. There are four HOCs in the U.S. -- Santa Ana, Philadelphia, Denver and Atlanta.
Calculation
FHA uses two main tools in calculating the rental factor for qualifying purposes: a rental appraisal report of the subject property or rental properties listed on the application, and the HOC vacancy and maintenance factor.
According to HUD, all HOCs, with the exception of Denver, use a vacancy factor of 15 percent. Denver uses varying vacancy factors for its jurisdictions. The rental income factor for properties within the Santa Ana, Philadelphia and Atlanta HOC jurisdictions is 85 percent; the total rent charged minus 15 percent.
Determination
An appraiser must determine fair-market rent of properties for which rental income is used in qualifying. For instance, in qualifying an applicant for an FHA mortgage on a duplex, the lender may not use the rental rate the borrower intends to charge, but instead, the amount of rent is can reasonably fetch according to an FHA approved appraiser's comparison of similar rentals in the area. The fair-market value multiplied by 0.85 yields the rental income the lender may use to help qualify the applicant for the loan.
Considerations
In general, a borrower may not use prospective rental income from a primary residence they vacate to qualify for the purchase of another primary residence with an FHA loan. The rule helps ensure that the borrower has sufficient income to support both mortgages without defaulting on the vacated property upon purchase of the new one. The rule does not apply if the primary home being vacated has a loan-to-value of 75 percent or less. It applies only to a principal to principal transition and does not include bona fide rental properties listed on the borrower's application. FHA may make an exception for borrowers who purchase another primary residence to due verified employment relocation.