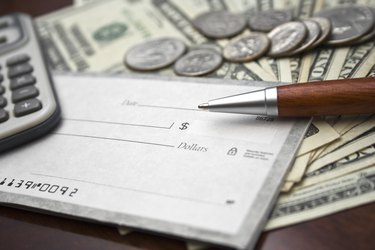 It happens. You write a check to a company or individual and the payee claims that they never received it. Or perhaps you've been waiting for them to acknowledge receipt for weeks or months and you've heard nothing. You want to be absolutely sure of the status of that check before you issue another one.
Fortunately, an account holder has multiple ways of determining whether a check has been cashed or deposited. Your financial institution has your back.
How Can I Tell If a Check Was Cashed?
The simplest way to determine the status of an outstanding check is to simply call the issuing bank or credit union, but personnel may not want to divulge this information to you anonymously over the phone. You might have to drop by a bank branch in person. Be sure to have a photo ID with you, as well as your account number, the check number that's in question and the amount of the check.
TD Bank suggests that you can spare yourself the trip if you're set up for internet banking or you've downloaded your bank's mobile app to your phone. Both options typically provide tools that show exactly what checks have been presented to your checking account for payment, which have been paid as well as your resulting balance. It's usually just a matter of clicking on the transactions tab. You'll probably also be able to take an educated guess if your account balance has dropped by the amount of the check in question, but you'll want to be sure.
You can also wait until your bank mails you your monthly statement if you're the patient sort and you've signed up for this service. Some banks will even include your canceled, cleared checks with your statement or at least provide you with images of them.
You shouldn't have to deal with the situation forever. Personal checks are generally only valid for six months, according to SoFi. Unless it's a cashier's check, you can stop payment on it if you determine that it hasn't cleared during this time or even before six months have passed. But be sure to contact the person or entity to whom you wrote it to let them know.
Can I Tell If My Check Was Cashed or Deposited?
One of two things are likely to happen when you write a check to an individual or entity. They'll take the check to the bank or credit union and hand it over in exchange for cash, or they'll deposit it into their own bank account. You can't always be 100 percent sure which has occurred, but the back of the cleared, canceled check should give you some pretty solid clues.
You'll find the endorsement there on the back of the check – the signature of the party who cashed or deposited it. The words "for deposit only" should also be written there if the check was deposited into an account. You might also see a bank stamp there indicating that the check was deposited, even if you don't see the handwritten words "for deposit only." The odds are that the check was cashed if neither these words nor a stamp appear.
The Office of the Comptroller of the Currency says that you can ask your bank for copies of checks that have cleared your account or even the originals if you don't normally receive them with your bank statement, or if you don't regularly receive bank account statements. Regions Bank lets its customers request copies of cleared checks for up to seven years after they've been paid, but there's a small fee and you'll have to wait for them to arrive in the mail. Your bank or credit union might have a similar policy.
Can I See Who Cashes a Check?
Many banks also let you see an electronic image of the check, both front and back, if you access your account online on their website. You can tell who's cashed or deposited it by looking for the endorsement signature on the back. There's no guarantee that the individual's signature will be legible or readable, but you'll at least be able to see the signature. This might give you a clue.
Someone Fraudulently Cashed a Check Written to Me (or a Check I Wrote to Someone Else). What Can I Do?
You may be able to get the amount refunded if you can prove fraud or identity theft, so contact your bank immediately if you think this has occurred. The bank should investigate potential scams and/or check fraud for you. But Intuit warns that a cleared check can't be reversed or refunded under most other circumstances.
Contact the intended payee if a check you wrote is simply unaccounted for. Huntington National Bank advises that you let your bank know right away if the payee has lost or misplaced it because a thief could try to cash it.