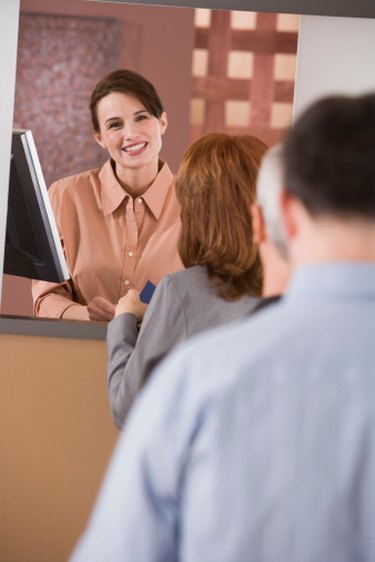 More college students rely on the U.S. Department of Education's federal student aid than any other source of financial assistance, and the Department of Education distributes over $150 billion to millions of college students every year. Students who apply for financial assistance must first complete the Department of Education's Free Application for Federal Student Aid (FAFSA). Four- and two-year colleges rely on the income guidelines to determine eligibility for financial assistance.
Expected Family Contribution
The Department of Education pays particular attention to students' expected family contribution, considering families' incomes and assets. The data from FAFSA are used to determine the expected family contribution and eligibility for government grants, campus-based programs and private scholarships. The difference between college costs and what students can afford to pay is the financial gap for which college financial aid is used.
Tax Documents
Parents, or students if they are independent, must provide tax documents to the Department of Education, which it uses to ensure that they adhere to income guidelines. For example, the Department of Education requires W-2 forms and federal income tax returns. Moreover, the government reviews non-taxable incomes, such as those which individual retirement accounts or investments produce. Most important, the government requires your Social Security number, which further ensures compliance.
Federal Income Guideline
The Department of Education's Office of Post-Secondary Education uses an income scale to determine if students are eligible for certain income-based programs such as Student Support Services, which provides financial assistance to students. As an example, families of four, in which household incomes are less than $33,525 a year, are eligible for financial assistance under the Office of Post-Secondary Education's Federal Trio Program. The average student received $1,482 in 2010.
State Income Guidelines
Some colleges use state income scale guidelines to determine students' eligibility for financial aid, in addition to FAFSA. For example, Rutgers University works along with the New Jersey Educational Opportunity Fund to determine eligibility and then awards between $200 and $2,500 to eligible students. Eligibility is dependent on how many members are in a family and how much they earn. For instance, a family of four, in which the total household income is $44,100, qualifies.
Income Adjustments
It is important to understand that when there is a change in income because of unemployment or unexpected medical expenses, financial aid administrators can adjust the guidelines. Other factors that may result in an administrator's adjusting college awards are homelessness, dependent care expenses and nursing home expenses. Changes that reduce your reported income should be brought to the attention of the administrator.