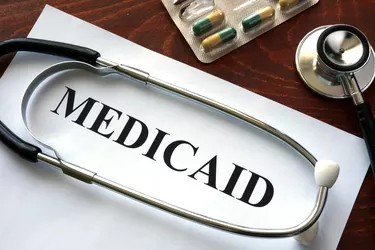 Medicaid is the federal health insurance program that provides coverage to low-income individuals who meet the eligibility criteria. If you are a Michigan resident who meets the citizenship, income and asset requirements, you may be eligible for straight Medicaid, which is Medicaid coverage without an HMO plan. An HMO is typically used to expand Medicaid coverage.
Who is Eligible?
Straight Medicaid in Michigan is available to pregnant women, infants up to 12 months old, children up to age 19, parents or guardians with children living in the household, adults age 65 or older and disabled or blind. If you are disabled, the disability must be verified by the Social Security Administration. SSI recipients will automatically qualify for coverage.
Income and Asset Restrictions
Medicaid applicants cannot exceed income limits based on eligibility category. Pregnant women and children are not allowed an income greater than 185 percent of the Federal Poverty Level (FPL). The FPL is subject to change annually and is based on the size of the household. In 2011, the FPL for a household of two is $14,710. A working parent can earn 61 percent of the FPL. A nonworking parent is limited to 38 percent. If you are applying for a child between the ages of 1 and 19, the income for the household cannot be more than 150 percent of the FPL. For example, a family of four cannot have an income higher than $33,075. All sources of income are calculated in the household's total gross income. Sources of income can include child support, Social Security benefits, alimony, wages earned through employment or interest from accounts. Asset restrictions apply to elderly, blind and disabled individuals. An individual cannot own more than $2,000 in assets, while a couple is allowed $3,000. Your home, vehicle and personal property are exempt.
Services Covered
Straight Medicaid covers a variety of services including doctor's visits, emergency care and specialized treatment from a podiatrist, chiropractor, optometrist, neurologist, cardiologist or clinical psychiatrist. Dental care is also covered through Michigan Medicaid. Additional Medicaid services include early and periodic screenings and diagnosis, laboratory and x-rays, family planning, medical transportation and prescription drugs. Nursing home care and hospice are provided, if necessary.
Applying for Medicaid
Before submitting a Medicaid application, it is important to have the required documents on hand. You will need to supply proof of citizenship, such as a birth certificate or U.S. passport, for all household members. Current paystubs and bank statements are needed. To complete the application, you will also need Social Security numbers for each household member. When ready to begin the application process, visit your local Michigan Department of Human Services. You can fill out the application in the office or complete at home and return. Based on the information you provide, a caseworker may contact you with questions or request additional documentation. The type of Medicaid coverage you are eligible for will be determined by Medicaid. Applications are generally processed within 45 days. If the applicant is pregnant, processing takes approximately 10 days.