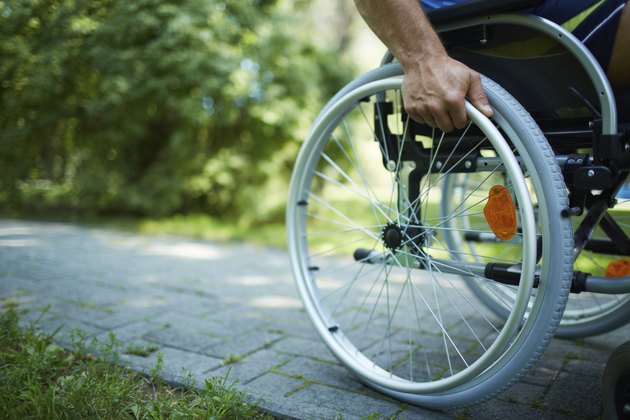 Unlike some federal benefits, Social Security Disability insurance isn't needs-based. It's not designed to help low-income individuals make ends meet. You become eligible based on your physical condition when your disability prevents you from working to your full potential. Your bank account won't affect your eligibility, regardless of whether you have $10 in the bank or $10,000. However, if are earning money from some type of work, your earned income might disqualify you.
Qualifying for SSDI
Qualifying for SSDI requires that you worked and paid into Social Security for a period of time. The Social Security Administration must find that you're not able to hold any job, not just the one in your chosen field. Your disability must be life-threatening or such that you're not likely to be able to return to work within a year. If you're able to do some work, your income can't exceed $1,070 a month as of 2014. The SSA takes the position that if you're capable of earning this much, you don't need financial help from the federal government.
SSI Disability Is Different
Supplemental Security Income also helps people with disabilities, but this is a needs-based program. When you apply for either form of disability, the SSA reviews your case to see which program you qualify for, if not both. It will consider your bank account for SSI disability because it's a resource. Depending on its balance, it may make you ineligible for SSI disability so you'd have to qualify for SSDI based on your physical impairment and your earnings instead.