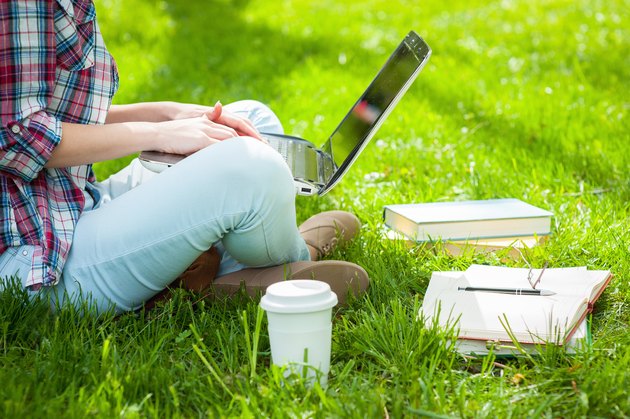 Congress determines the interest rates on student loans administered by the federal government, but Congress frequently changes is its mind about what those rates should be. They vary according to the year the student borrowed money as a result, as well as the program he borrowed to pay for and his financial need.
Direct Unsubsidized Loans
Direct unsubsidized loans -- those that accumulate interest as soon as the money is dispersed -- are available to most undergraduate students enrolled in degree programs at accredited universities, according to the Department of Education. These loans come directly from the Department of Education instead of a private bank. Loans issued between July 1, 2015 and July 1, 2016 carry an interest rate of 4.29 percent. That's a slight dip from the 4.66 percent rate for loans granted between July 1, 2014 and July 1, 2015. Students borrowing during that time got a slightly worse deal than students who borrowed money in 2013 when the rate was 3.86 percent.
Direct Subsidized Loans
Direct subsidized loans are available to undergraduate students in degree programs at accredited colleges who meet the Department of Education's criteria for financial need. These loans don't begin accumulating interest until the student leaves school. The criteria are complicated and depend on family income, family expenses and the cost of tuition. Historically, subsidized loans carry lower interest rates than unsubsidized loans. From 2011 to 2013, their rate was 3.4 percent, compared to a whopping 6.8 percent for unsubsidized loans. Interest rates for direct subsidized loans were the same as rates for direct unsubsidized loans -- just over 4.5 percent -- beginning on July 1, 2014 through at least July 1, 2016.
Graduate and Professional Students
Students enrolled in graduate school and professional degree programs like law and medicine may be eligible to receive direct unsubsidized loans, but the rates are higher than for undergraduate students. Graduate student loans issued from July 1, 2015 to July 1, 2016 carry a rate of 5.84 percent -- more than a percentage point higher than undergraduate rates.
The Impact of Interest Rates
Interest rates make a huge difference in the overall cost of a student loan. If a student takes out a $10,000 direct unsubsidized loan at the peak 6.8 percent interest rate and pays it off over ten years, he could pay more than $8,000 in interest. The same loan at a 3.4 percent rate would generate only about $3,500 in interest costs over the same period.