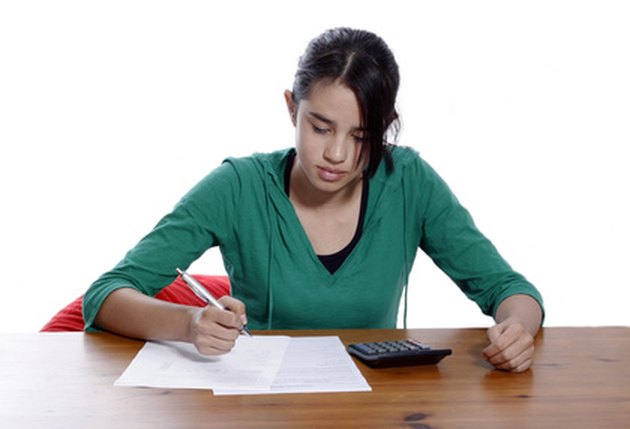 Parents and caregivers can claim dependents on your income tax return even if the dependent worked during the tax year. A dependent is anyone for whom you provided at least 50 percent care during the tax year; dependents are not limited to you own children but they must pass the relationship test by being your child, stepchild or adopted child, sibling, child of a sibling, parent or grandparent. The dependent must be a U.S. citizen who lived with you at least half of the year. If the person for whom you'd like to claim on your return does not meet all of these requirements, he or she cannot be claimed as a dependent.
Step 1
Claim your working child on your federal income tax return by obtaining the correct form to file for the tax year, form 1040 or form 1040A. Form 1040EZ does not allow taxpayers to claim dependents.
Step 2
Provide all of the required information that applies to your tax situation on your federal income tax form. To claim your working child as a dependent, enter the child's name, social security number and relationship to you in the exemption section, line 6C of your income tax form. If the child is younger than 17, check the box next to the child's name.
Step 3
Enter the number of dependents you are claiming in the box on line 6D of your federal income tax return. Your credit for claiming the exemption of your working child appears on line 42 of your federal income tax return; multiply the number of exemptions you noted on line 6D by $3,500 (as of 2011) and input the total on line 42.
Warning
Claiming your working child's exemption does not mean your child is exempt from filing an income tax return; he simply cannot claim his own exemption on his return.