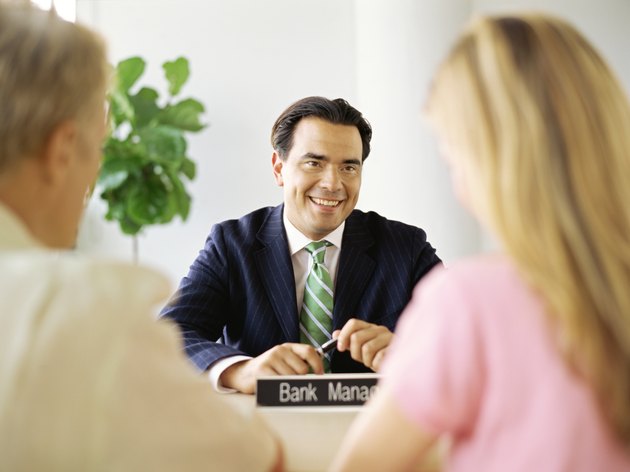 HomePath is a program offering mortgages with low down-payment amounts. This program is only available for loans to buy properties being sold by the Federal National Mortgage Association, better known as Fannie Mae. These properties have been repossessed when the previous owners' mortgages were foreclosed.
Step 1
Find a lender. A range of lenders are authorized to offer HomePath mortgages. Even the smallest state, Rhode Island, has more than two dozen authorized lenders. Lenders are listed by state on the HomePath website.
Step 2
Get preapproved. This involves the lender checking your finances and estimating how much you can borrow. This gives you an idea of the type of house you can afford. The preapproval doesn't guarantee you'll get a loan for this amount, but it speeds up the approval process later on.
Step 3
Find a property. Eligible properties are listed in Fannie Mae's HomePath database. They're not listed through real estate agents' own sites, though you can use any real estate agent to make an offer on the property.
Step 4
Check your property's eligibility. There are two types of HomePath mortgage available: The HomePath mortgage doesn't require an appraisal and covers only the purchase cost. The HomePath renovation mortgage requires an appraisal but covers both the purchase and light renovations.
A prefabricated home only qualifies for the main HomePath mortgage. A home in poor condition may only qualify for the renovation mortgage; this is designated by the word "renovation" in a logo that appears on listings. All other homes qualify for both types of mortgage.
Step 5
Make an offer. You have to supply a cash payment known as "earnest money" to show you're serious. This payment is put toward your down payment if the deal goes through.
Step 6
Hire a professional to examine the property. You have ten days after an offer is accepted to do this. Fannie Mae sells all properties on an "as is" basis, meaning it isn't responsible for any problems you don't uncover through inspection.
Step 7
Await approval. The lender needs to confirm that it's willing to loan you the money and fund the home purchase.
Step 8
Gather together a down payment. This payment is at least 3 percent of the property purchase price, which is a lower percentage than that found with many other mortgages. You're allowed to get this money from your own savings, a gift or a grant. You can only borrow it on a secured basis from a state or local government, employer or nonprofit organization. HomePath rules dictate that you can't borrow the deposit amount from a commercial lender.
Things You'll Need
"Earnest money" payment

3 percent down payment