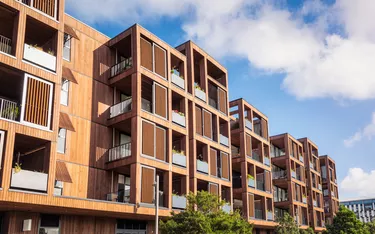 During this hot housing market, condominiums and housing cooperatives remain popular choices for first-time homebuyers who might not have enough money for a single-family home, as well as for those who prefer less maintenance or a more desirable location. However, building soundness concerns have led to new temporary rules from Freddie Mac and Fannie Mae, the agencies that back many mortgages. These new real estate financing rules require proof that the condo or co-op doesn't need major repairs or have a lot of deferred maintenance. Here's how they affect both sellers and buyers.
The Need for New Requirements
Fannie Mae explains that new temporary requirements – in effect since ​January 1, 2022​ – are necessary due to concerns over the safety and soundness of residential buildings that have aged and may need significant repairs and maintenance. While the New York Times reports even newer buildings in New York City have had severe issues, it was the 2021 tragedy in Florida at the Champlain South Tower complex that sparked the concern. Therefore, both lenders and owners need protection to lower their risks.
Freddie Mac notes that condos and co-ops with at least ​five​ attached units will not be eligible for financing if any critical repairs are needed. This category not only includes repairs to make the building safe for occupancy and up to code but also any significant maintenance needed that's been put off. However, if the repair or maintenance needed is routine – such as minor issues the homeowners association (HOA) will fix in a year – then this may not prohibit financing.
The new rules also require examining special assessments that co-op or condo boards have decided on. As described in the bylaws, special assessments require owners to provide funds beyond typical maintenance fees. The lender will have to learn about the amount and reasoning for the assessment as well as verify building soundness isn't at risk. There's also a requirement for sufficient reserve funds so that management companies can handle major maintenance and repairs.
Due to these rules, co-op boards and HOAs have heavier paperwork requirements for property sales. They'll need to fill out an extensive questionnaire to demonstrate whether the new rules are met as well as provide supporting documents such as records of repairs, minutes from board meetings and reports from engineers. This adds more work that boards may not be ready to handle, but if it's not done properly, then the property closing process will be delayed or could fail.
How the Rules Affect Buyers
According to the Consumer Financial Protection Bureau, conventional loans backed by Freddie Mac or Fannie Mae are very popular. Programs like Freddie Mac's Home Possible with a low ​three percent​ down payment add to the appeal. This means there's a good chance you'd seek one of these loans for a condominium or co-op apartment purchase.
Unfortunately, the property might end up not meeting the new eligibility requirements. Even if it does, the community association or co-op board may struggle to fill out the paperwork on time. These issues can mean missing out on receiving home financing approval and ultimately getting your new home.
You could consider paying in cash, but this is hard financially and can put your safety and finances at risk if the property has soundness issues. There's also the option of seeking alternative mortgage programs, but there's a risk to the borrower if something happens to the property later. Also, other programs may decide to follow the new rules too.
These new real estate financing rules require proof that the condo or co-op doesn't need major repairs or have a lot of deferred maintenance.
How the Rules Hurt Sellers
While aspiring homebuyers face headaches securing financing for affected properties, homeowners also suffer when deals fall through. Selling a condo unit or co-op even without any soundness issues becomes a struggle when property associations avoid promptly filling out the required forms and submitting documentation to lenders.
Therefore, co-op and condo owners can face delays whenever conventional financing is involved. If you're selling a condo unit in a building with disqualifying deferred maintenance, it becomes more challenging since a unit owner may need to rely on cash buyers or wait for the HOA to fix the property's problems to successfully sell.
Watch for Potential Changes
Due to the negative effects on buyers and sellers, the Community Associations Institute is pressing Freddie Mac and Fannie Mae to consider a yearlong delay in implementation. So, you'll want to watch for any updates if you're buying or selling an affected property as well as be prepared for the potential roadblocks.