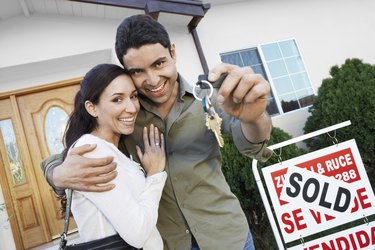 Selling a house can have costs, such as title charges, attached to it. Sometimes homeowners will give buyers concessions to entice them to purchase if they don't have enough money for the down payment. This may be a negotiating tool. However, there are some closing costs that are standard for sellers and are rarely negotiated. A homeowner needs to be aware of what these are so that they may be calculated into the proceeds amount. The more the closing costs, the less the seller will receive in the transaction.
Step 1
Request a settlement statement, also know as a HUD-1, from the title or escrow company before the closing meeting takes place. One may be sent to you automatically with your proceeds from the sale after the transaction closes, but you should look at it beforehand in case you have any questions.
Step 2
Look under Section K (Summary of Seller's Transaction) on the first page of the HUD-1, and in the column entitled "Paid From Seller's Funds at Settlement" on the second page to ensure that the costs reflected are those that you anticipated. Carefully review the amount of each.
Step 3
Add the items that are charged to the seller in these sections. Some seller costs may include buyers mortgage points, a home warranty, interest owed in arrears, a pre-payment penalty from the lender, transfer and closing fees, postage costs, attorney charges, money-wiring expenses, escrow fees, title insurance and the seller's share of taxes for the year.
Step 4
Take the total amount of seller costs, excluding real estate commissions, and divide them into the sale price of the home. If your expense is more than 7 percent, then you may have been charged too much for one of the items, such as some of the title charges in Section 1100 of the HUD-1.
Step 5
Calculate the sellers concession to the buyers to be no more than 3 percent of the sale price if the buyers are obtaining a Federal Housing Administration (FHA) loan.
Step 6
Ask your real estate agent or the title company for clarification if there are items charged to you that do not appear to be your responsibility. If you have the HUD-1 before the close, ask that the charges be removed and a revised settlement statement sent to you for your approval. If you don't see it until after, ask for a refund of the charges.