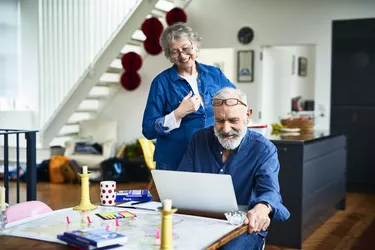 The Social Security Administration stopped mailing SSI checks March 1, 2013. From that point on, nearly all SSI recipients had to sign up for direct deposit to their checking or savings accounts. Rare exceptions are allowed. You may still be able to get a monthly check if you're mentally impaired, were born on or before May 1, 1921, or live in a remote area where you can't arrange for direct deposit.
Rare Exceptions
The only exception that practically applies today is mental impairment. If you were born on or before May 1, 1921, you're at least 98 years old. And people who live in remote areas can bank online through a satellite internet provider.
If you want to request payments by check, you or your representative have to fill out FS Form 1201W and mail it to the U.S. Treasury. The form can be downloaded from the Office of Information and Regulatory Affairs' website. The U.S. Treasury's address is at the bottom of the form.
Who Gets SSI?
If you're receiving SSI you're undoubtedly dealing with mental and/or physical health challenges. SSI was set up to assist elderly, disabled and blind persons who have little income or no income at all. At a maximum of $771 a month for a single person and $1,157 for couples, it's supposed to cover the necessities of food, clothing and shelter.
You are allowed to earn money while collecting SSI, but there are caps to how much you can earn. So be sure to check for the latest numbers on the SSA's website. Bottom line is that if you collect SSI, you're more than likely on a very tight budget. You won't want to pay any more than you absolutely have to just to cash your checks.
Check Cashing Options
If you are one of the rare people who does receive their SSI check by mail, you have several options for cashing it. You can cash it at your bank or credit union, use a check cashing service or cash it at your nearest Walmart store.
You can also deposit your check in your checking account and use your debit card for purchases and getting cash. Many banks now allow you to deposit checks using their mobile apps. You just have to sign the back of the check and use your cellphone or tablet to snap photos of the front and back.
Government checks clear pretty quickly. So chances are you'll have access to all of your funds within 24 hours.
Check Cashing Services
While they are an option, stand-alone check cashing services are not the best way to cash SSI checks. Or, for that matter, any check. Most of them charge a percentage based on the dollar amount of the check.
The range is 1 to 12 percent. Some have discounts for government-issued checks and some don't. If your SSI check is $771 you'll be paying the check cashing service at least $7.71. If you're trying to live on $771 a month even a relatively small fee can hurt.
Walmart and some large grocery store chains offer check cashing services. Their fees are almost always lower than stand-alone check cashing services. Walmart, for example, has a $4 maximum for checks of $1,000 or less.
SSI Checks to Direct Deposit
If your request for payment of your disability income by SSI checks was granted but you would like to switch to direct deposit, you can go to www.godirect.gov to sign up. You'll need the following:
Your Social Security number.
The 12-digit federal benefit check number (it's on the face of your SSI check).
The amount of your most recent check.
Your bank or credit union's routing number.
Your bank or credit union account number.
The type of account you have: checking or savings.
Direct Express Prepaid Debit Card
Direct Express is a great option if you don't have a bank account. It's a prepaid debit card that the Treasury Department loads every month. There's a link to Direct Express on the same www.godirect.gov website.
If you have questions or any difficulty signing up for a Direct Express prepaid debit card you can call for help at 800-333-1795.