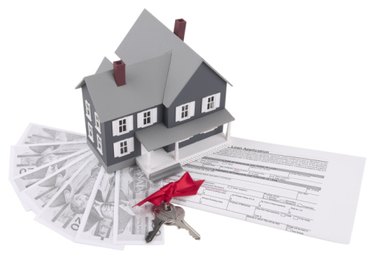 People making offers on residential property are usually required to provide the seller with proof of funds. If you are financing a home, you have to prove that you have funds for the down payment and closing costs. Cash buyers have to prove that they have funds to pay for the entire purchase. Bank-owned properties are sometimes sold at cash-only auctions. These auctions enable banks to quickly sell properties because cash transactions are typically much quicker than financed purchases. You must have proof of funds in order to make a bid.
Step 1
Contact the owner of the property you intend to bid on, or the real estate agent that represents the owner. If you are intending to attend a real estate auction, contact the firm running the event. Ask the seller or auctioneer which documents are required to show proof of funds. Some people require two months of bank statements while others need just the most recent statement. If you plan to sell investment holdings, you need to have statements from 401(k) accounts or brokerage holdings. Since some investments have fluctuating daily values, some sellers only accept proof of funds from standard bank accounts. You can also ask if the seller accepts funds available through existing credit cards or home equity lines.
Step 2
Go online and access your bank's website. Print off your most recent statements. Print all the pages because incomplete statements are not usually acceptable. If you intend to take funds from a 401(k), request a statement from your plan custodian. You can get brokerage statements from your investment representative.
Step 3
Visit the bank. If you plan to use funds held in a certificate of deposit, ask a bank representative to print out an account summary showing the balance in the account. You must also request a letter signed by a bank officer stating that you have sufficient funds to pay for the home purchase. Request a similar letter to verify funds available through a line of credit or credit card. Ask for a credit line account summary print out that shows the available balance.
Step 4
Attend the auction or arrange to meet the seller. Provide copies of all of your documents as proof of funds. Once accepted, you can make a bid on the property.
Tip
If the seller requires a verification of funds letter from your bank, make sure the bank officer prints it on company headed paper and includes the date and bank contact number, as well as your name and the amount held in your accounts.
Warning
If you intend to sell investment holdings to fund a home purchase, remember that you can only sell investments when the markets are open. Investment companies must transmit funds from sales to you in a timely manner but the Securities and Exchange Commission does not impose a deadline. It normally takes at least three business days to receive funds.