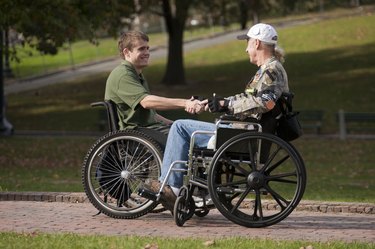 If you are approved to receive disability compensation from the U.S. Veterans Affairs program, you are assigned a rating percentage from 10 to 100. This rating affects the amount of compensation you receive, as well as other benefits to which you may be entitled. For example, any rating at 30 percent or higher also qualifies veterans for additional income for spouses or dependents or both. While it is difficult to predict the circumstances that warrant a 100 percent disability rating, there are several factors that can increase your chances of receiving a high rating.
Applying for Benefits
To be eligible for any veteran's disability benefits, you must have a service-related disability and an honorable discharge. You must submit medical evidence that the disability began or occurred while you were in the military or arose from your military service. If you were injured while in the service, the government should have medical records detailing the injury or disability on file already. Visit the VA's eBenefits website to register for an online account and file an electronic claim. You also can download Form 21-526EZ and submit it with any supporting documents.
Employment Eligibility
To earn a 100 percent disability rating you must prove that you either can't get work or keep a current job due to your service-related injury or disability. Proof will include evidence that you tried to find employment, so keep a log of job interviews, cover letters and any other documents you used during a job search. If you can work as a volunteer, the VA may determine that you can also work as a paid employee.
Clinical Evidence
The VA takes several months to examine the clinical information that you submit with your application against a list of the symptoms for the disabling condition. This helps them determine the severity of your current disability. The VA has a schedule to rate the disabilities, listing symptoms for each in order of increasing severity. Depending on where yours fall on this schedule, you will receive the corresponding rating. The schedule ranges from zero to 100 percent in ten percent increments. Compensation rates change each year due to cost of living increases, but your rating percentage remains the same unless you challenge it and win.
Changes and Appeals
If your condition worsens, you can apply for an increased rating at any time. You will also be contacted periodically to review the status of your disability, unless the VA determines that you have a permanent disability, because the VA has a provision that allows them to review your rating assignment based on your disability lessening. You do have the right to appeal the VA decision regarding your compensation rating by filing a Notice of Disagreement, which precedes a review of appeals by the VA.