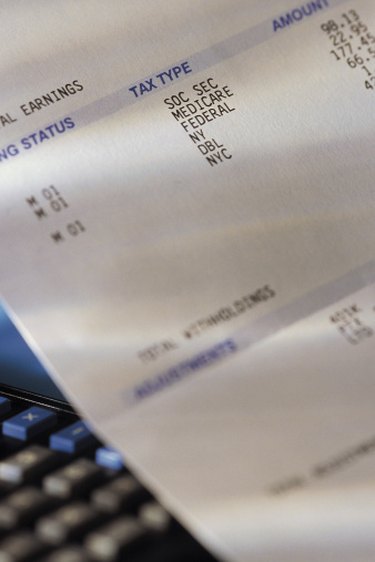 Collecting wages owed from an employer can be a challenging task. If still employed by the company, discuss the money owed with your supervisor before taking additional steps to collect. In many cases, a friendly, non-combative approach is best. When a current or past employer refuses to pay, put your claim for past due wages in writing. Attach an itemized invoice along with any substantiating information. If these steps fail, follow-up with your Wage and Hour Division, or the U.S. Department of Labor.
Step 1
Outline the amount of wages owed prior to meeting with your supervisor at a current employer. If paid an hourly wage, provide the information in the company's preferred format or form, and attach any supporting information, such as copies of calendar or diary pages. Remain calm when discussing your wage claim with a supervisor, and avoid indicating that your plans include taking the matter to the Wage & Hour Division of the Department of Labor.
Step 2
Identify obvious reasons for the non-payment of your wages. Depending on your employer's compensation system, holiday or other wages may not have been entered into the payroll. In most cases, an employer will provide unpaid wages by the next pay period.
Step 3
Know whether your position is exempt or non-exempt. If your claim has to do with overtime hours, your employer may claim your position is exempt. This means your job is not governed by the Fair Labor Standards Act for overtime. However, most exempt employees are paid a salary and not an hourly wage. Many companies require a supervisor's prior approval of overtime hours. If your supervisor approved overtime and your wages for the hours remain unpaid, present the authorization to the employer's Human Resources team.
Step 4
Collect wages with the help of special city and state provisions. In some cases, unpaid wages can be considered a form of theft, according to "Worker Centers: Organizing Communities At the Edge of the Dream," a book published in 2006. Under Texas Penal Code, the local police department is charged to investigate and resolve these claims. According to "Asset Protection," a book published in 2008, the 10 largest shareholders of a corporation may be liable for employees' unpaid wages of up to six months under New York Business Corporations Law 630, for example.
Step 5
Understand that not all compensation or expenses owed are considered wages by the Department of Labor. For example, if your claim includes unpaid mileage driven for the benefit of your employer, you'd like to receive reimbursement for the wear and tear on your personal automobile. However, mileage or other expenses owed aren't considered wages by the Department of Labor.