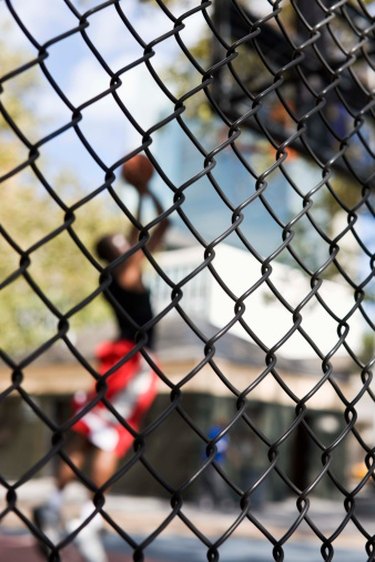 Chain-link fences keep your pets in your yard and neighbors out, but they're not always the most attractive yard accessory. You can, however, cover your fence inexpensively and make it more beautiful without harming its effectiveness as a barrier. The method you choose depends on how much time you have to invest and the look you're going for.
Yarn
A group of self-described "yarn bombers" in Denver, Colo., started out decorating public places with their yarn creations on the sly, but recently won legitimacy--a contract from the city of Denver to decorate a chain-link construction fence. Using scrap yarn and purchased material, the members of the Ladies Fancywork Society crocheted a garden of yarn blossoms, bees and butterflies and attached them to the fence with plastic cable ties. You could replicate the idea in your own yard and transform your chain-link fence into a work of art.
Vines
Vining flowers such as morning glories and passion flower grow quickly and provide a green, blooming barrier to a hide a backyard fence. As a bonus, the flowers attract hummingbirds and butterflies. If you prefer a more utilitarian approach, plant squash or beans to vine along your fence. For an evergreen covering that camouflages year-round, try English ivy.
Paint
You can paint a chain-link fence green, brown or black to blend in with the surroundings and be less noticeable. Clean the fence first, and remove any rust with a wire brush, then roll on latex paint with a roller than has a 1½-inch nap. Use a dropcloth to protect surrounding shrubs and grass.