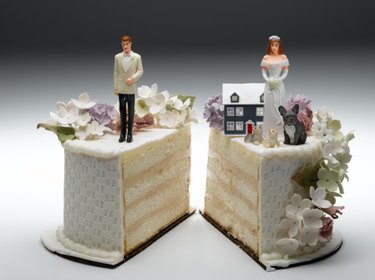 Ohio offers the choice of an annulment, a dissolution or a divorce for couples ending their marriages. The attorney's fees, court costs and other financial obligations vary with each case. To determine how much a divorce costs in Ohio, you must look at each case separately. The other key factor for determining cost is how the motion was filed and who filed it with the courts.
Paperwork
The paperwork required for a divorce in Ohio is available through an attorney, at the local library or on the Internet. Each county requires the same paperwork for a divorce petition. However, different counties require additional paperwork for child support and other forms listing assets or amendments to the petition. The cost of the various forms range from free at the library to hundreds of dollars through attorney services.
Filing Fees
You must pay a fee when filing a divorce petition. The filing fee varies by county and is usually included in the charges when you're using an attorney. You can file the paperwork on your own and avoid additional attorney fees. If you have a problem paying the filing fee, ask the clerk for an indigent form to request payment arrangements or a reduced filing fee. The county fees are set by the courts and differ throughout the state of Ohio. For instance, in Carroll County, the filing fee is $160, while it is $275 in Hamilton County and $150 in Cuyahoga County.
Legal Aid
If your spouse has retained an attorney and filed the petition for divorce, or filed the petition without an attorney, you can contact legal aid for advice. Ohio Legal Services offers free and reduced priced services to those in need. You must go through an assessment before speaking with an attorney. You can also ask the court to appoint legal representation to you, if you are the defendant in the divorce hearing.
Counseling
The court has the right to order you and your spouse to participate in a family counseling session. Some courts have counselors on-call for this service; other county courts require that you retain your own counselor. You may be required to pay for the counseling in addition to the cost of the divorce. Community organizations often provide counseling services on a sliding scale or free for low-income clients.
Attorney Fees
Attorney's fees vary according to the type of divorce and the attorney. Some attorneys have a set fee for no-contest divorces and include all court costs and other fees in the price. Other attorneys charge by the hour and require a retainer fee after the first consultation. The retainer covers preparing the paperwork, the court filing fees, running an ad in the newspaper (if necessary) and the court appearance. If the case is particularly difficult or contested, the retainer fee is just the first installment of the total payment. Retainer fees can start at $1,000 and go up from there.