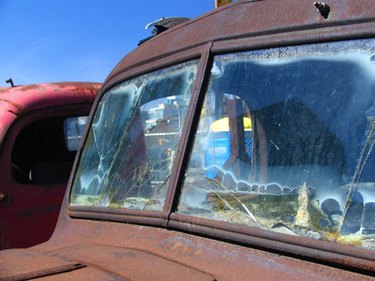 A chipped windshield can be fixed, but a windshield with a major crack in it must be replaced. If your insurance does not cover this, the replacement can be expensive. Fortunately, there are several ways to lower the cost of your windshield replacement. The key is to be patient and shop around for the best values.
Step 1
Examine the size, location and severity of the damage to your windshield. Double-check whether or not you must replace the windshield. Some companies are able to repair cracks up to 12 inches long.
Step 2
Photograph the damage with a digital camera. Call several companies and describe the damage, and email or text-message these companies a photo. Ask if any of them can repair your windshield instead of replacing it.
Step 3
Call or visit a junk yard or salvage yard to see if a replacement windshield is available. Buying the material directly means you will only have to pay for labor.
Step 4
Call several automotive glass specialists and ask each specialist for a quote. If you were able to find a windshield at a salvage yard, let the specialist know that you only need labor.
Step 5
Ask for a discount of 10 percent off the quoted price. Offer upfront that, in exchange for a discount, you will be flexible about the time of day, and day of the week, that you bring in the car for a windshield replacement. Some specialists may say no, but others may agree.
Step 6
Call the specialist at the end of the day. If the specialist does not have business scheduled for the following morning, the specialist may be more inclined to give you a discount in order to fill his morning hours.
Step 7
Avoid calling for a replacement around the holiday season, when service business tends to pick up as more people are off work and are getting around to the chores and errands they have been too busy to do.