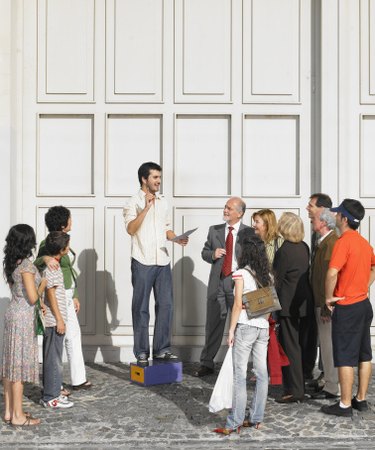 A homeowners association is an organized group of citizens in a community that work collaboratively to protect the interests of property owners within the association community. Typically led by paid or volunteer representatives or an elected board, a homeowners association may participate in restricting community growth, monitoring development, observing traffic issues and preventing non-environmentally friendly activity.
Preside Over Meetings
The main responsibility of a president in any organization is to preside over meetings of the executive team or board. This duty is listed first in the Doc Stoc generic "HOA President Job Description" template. Along with leading and directing the actual general meetings of the board, you must prepare the agenda and distribute it to board members and other necessary parties. As part of agenda preparation, you are responsible for communicating with other board members about topics of discussion. You must also field requests from interested community association residents with a concern or interest who would like to appear before the board.
Financial Oversight
A homeowners association often has a treasurer who is responsible for collecting any dues or fines from association members, managing association finances and making payments on any approved association expenditures. As president, you usually have authority and oversight over the financial management of the association's budget. Actual financial responsibilities and budget vary by association. In the Doc Stoc template, it is indicated that the president assumes responsibility for financial matters in lieu of the absence of the treasurer. This includes check signing, invoices and more. Associations may also require presidential signature on checks of a certain amount. Presidents may be in charge of a discretionary budget for use in conducting association business or making payments that do not need board approval.
Communication to Association Members
In his Q&A article "What Are My Duties As President Of A Homeowner's Association?" published on the Lawyers website, Thomas Pedreira indicates that homeowners association presidents are also responsible for any required or pertinent communication with association members. This includes distribution of board meeting announcements and minutes as required. Pedreira points out that in order to be effective as a board president, you must be consistent in your handling of homeowner matters. You cannot play favorites with friends or family, and any decision that you are not comfortable communicating to community members as required should be carefully examined.