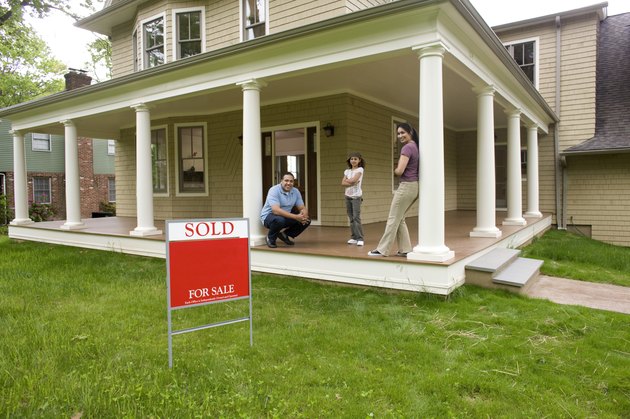 A down payment requirement of 20 percent or more can keep otherwise capable borrowers from owning a home. Mortgages that cater to first-time homebuyers often offer a low down payment and other favorable terms. Down payment assistance programs also help offset the cost of buying your first home. These programs help borrowers who have not owned a home in the past three-year period. Conventional loans and government-backed loans offer down payments between 3 percent and 5 percent.
Conventional Loans With 3 Percent Down
Fannie Mae and Freddie Mac both offer 3-percent down payment loans. Fannie's MyCommunityMortgage program was in effect as of the time of publication. Freddie's Home Possible Advantage was scheduled to begin on March 23, 2015. To qualify, buyers must:
complete a homebuyer education course
purchase a one-unit property
occupy the home as their primary residence
pay private mortgage insurance, or PMI
get a loan up to $417,000, or $625,500 for certain high-cost areas
get a fixed interest rate.
Conventional Loans With 5 Percent Down
Conventional financing with 5 percent down caters to first-time and non-first buyers. However, first-time buyers who seek this low down payment option have the choice between an adjustable rate mortgage, or ARM, and a fixed-rate loan. Unlike a fixed-rate loan, an ARM has an interest rate -- and payment -- that increases after a specified amount of time, such as 5 years. ARMs tend to have lower initial interest rates, but they are considered riskier because the payment increases over time.
Federal Housing Administration Helps Wide Range of Borrowers
Although you don't have to be a first-time homebuyer to get an FHA loan, these government-insured loans are frequently used by first-time buyers due to all-around flexible terms. FHA loans require only 3.5 percent down because they're insured by the federal government. FHA borrowers pay for mortgage insurance, or MI, which protects the lender in case of default. Only FHA-approved lenders can make the loans and properties must pass an FHA appraisal inspection. An FHA loan may appeal to borrowers who:
have credit scores down to 500, although lenders may require a 580, 620 or 640
require a gifted down payment from a family member
want to buy a manufactured home
want to buy a 1- to 4-unit property.
Down Payment Assistance Grants and Loans
Grants, low-interest and interest-free secondary loans can reduce your out-of-pocket down payment expense. Down payment assistance options and availability vary by state, jurisdiction and time of year, as some programs can run out of funds more quickly than others. Check with your local housing agency, as the federal government and states administer down payment assistance programs through counties and cities. Depending on the program, first-time buyers typically must:
obtain a first mortgage that's acceptable to the assistance program
meet program income limits for their household size and area
occupy the home as a primary residence, and sometimes, for a minimum number of years
meet credit score requirements
contribute a minimal amount to help with the down payment or closing costs.