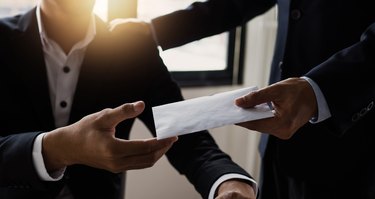 Many Americans aren't familiar with the term monthly emoluments, but it is commonly used in other parts of the world. Total emoluments per month go beyond salary and are distinct from remuneration, although it is a way of describing an employee's compensation.
What Are Monthly Emoluments?
The phrase monthly emolument is used in two primary ways. First, it can describe how an employer plans to pay an annual salary for one of its staff. If a person makes ​$60,000 per year​ and is paid once a month, their monthly emolument is ​$5,000​. More commonly, monthly emoluments, also known as simply emoluments, are used as a catch-all for any compensation or benefit an employee receives for employment. According to Wisdom Jobs, they may come directly from the employer or indirectly.
An emoluments example would need to include all salary, wages, tips, commissions and other cash payments that an employee received in a time period. It also includes benefits like health and dental insurance and retirement. Some organizations provide additional perks, like gym memberships, free meals, use of a company vehicle, housing or housing allowances.
In some loose definitions of the word, less tangible or direct benefits may also be considered emoluments. For example, if a person works for a prestigious company, they get to use that company's name and reputation to their advantage, either directly or indirectly. Here's an example of that: An organization might pay a well-known government figure to give a keynote speech. While the government isn't paying them, their affiliation and position landed them this lucrative side gig.
The Difference Between Salary, Emoluments and Remuneration
There is a clear distinction between salary and emoluments. While salary is considered to be one type or part of an emolument, emoluments include much more. Whereas a salary is an agreed-upon cash payment for work or services rendered, total monthly emoluments include anything that compensates an employer for their labor.
Remuneration is more similar to emoluments than salary, and sometimes the terms are used interchangeably. However, in a legal sense, they are distinct. Remuneration is usually more specific; it is a direct exchange of services for some kind of pay, whether cash or otherwise. Emoluments are sometimes defined more loosely or may not be tied directly to services rendered.
It can be helpful to think about it like this: Monthly emoluments are made up of everything that your employer gives you to help you get the things you need or that you would otherwise have to pay for. However, because emoluments are sometimes not easily defined, there are a few methods for calculating them, including using a gross emoluments calculator.
Gross Emoluments Calculators and Calculations
If you're working on your United States taxes, all you should do is follow instructions for calculating gross income. You typically don't have to pay taxes or declare other emoluments unless explicitly specified. According to the writers at Emolument, to calculate gross emoluments (referred to as the full salary package), you should start with a list of everything you receive from your employer and employment, including cash payments and all other types of benefits. You will need to make sure that you assign each of them an accurate monetary value.
Some of these, like salary, will be obvious, while others, such as a gym membership, you may need to look up. Your employer can also tell you how much your retirement, insurance and other benefits cost them. Be sure to use the same occurrence for every benefit. If you're calculating gross monthly emoluments and your employer gives you your benefit information in annual costs, divide them by 12. Then, add each of these amounts, and the resulting figure is your total gross emoluments.