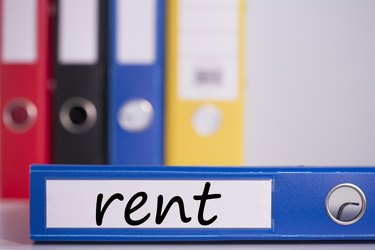 If you're a landlord, you must report rental income on your tax return. The Internal Revenue Service says that most individuals who rent property to others will report rental income using Schedule E. However, if you provide what the IRS calls "substantial services" to your tenants, or if you're a real estate dealer, you would report the income using Schedule C.
Sole Proprietors Only
Schedules C and E are only for landlords taxed as sole proprietors. If you rent property through a corporation, a partnership or a limited liability company that's taxed as a corporation or partnership, you would use neither Schedule C nor Schedule E. Rental income and related expenses would be reported on the business's tax return.
Using Schedule E
Landlords should use Schedule E if they rent rooms, apartments or entire buildings and provide only "basic services" to their tenants. Basic services include such things as utilities, trash collection and maintenance. On Schedule E, you report your rental income as well as your expenses associated with that income. You can report up to three separate properties on each Schedule E, and you can file as many copies of the schedule as you need to report all properties.
Using Schedule C
Landlords report rental income on Schedule C -- "Profit or Loss From Business" -- if they provide more than basic services to tenants. Housekeeping, linen service, maid service and meals are examples of substantial services that would require a landlord to use Schedule C. In essence, once you start providing substantial services, you're not just renting property; you're running a hotel or boarding house. Those count as businesses -- thus the requirement for Schedule C. Landlords must also use Schedule C if they rent property as part of their business as a real estate dealer.