Buying a car is an art as much as a science. To avoid paying too much, you'll need to prepare ahead of time by determining how much the car costs the dealership and what price range it would be willing to sell the car for. You'll also need to time your visit right and use basic negotiation tactics to get your desired new or used vehicle for the best price possible.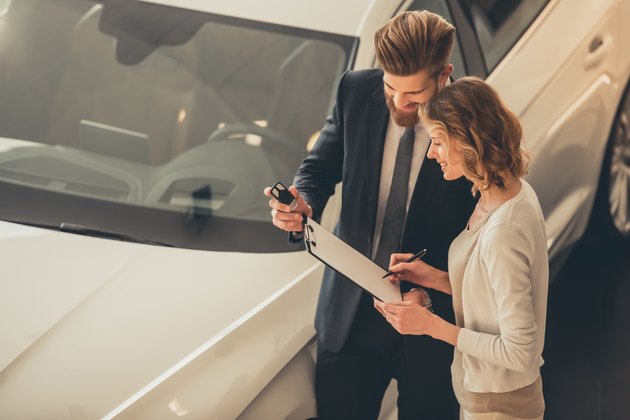 New Car Research
Decide on an acceptable price for the car you want before leaving for the dealership. If you're buying a new car, forget about the manufacturer's suggested retail price. Focus instead on the invoice price, which reflects the official dealer cost. Dealers should give you a copy of the invoice for the vehicle you're looking at if you ask, or you can find it online at car-buying websites such as Edmunds.com. Also investigate any factory-to-dealer incentives and holdbacks. Incentives reduce the cost of the car for the dealership. This savings can be passed onto you. A holdback is more nebulous — it refers to a percentage of the car price that the manufacturer refunds to pay for the dealer's advertising and marketing costs. It's easier to negotiate using incentives than the holdback, but both help you keep the dealer profit to a more acceptable level.
Used Car Research
Used car values can be found at car-buying sites such as Kelley Blue Book. Keep those figures in mind when looking at cars, but factor in the condition of the vehicle and how it has been used by previous owners. For a used vehicle, get the Carfax and Autocheck reports. These reports communicate information that was reported by previous owners. Just be aware that if someone got into an accident and did the repairs on his own, those repairs wouldn't appear on the reports. That's why it's a good idea to also examine the vehicle yourself or, better yet, have a trusted mechanic look it over.
Finance First
If you're going to finance your car, don't show up to the dealership without an arrangement in place. While many dealers will provide financing to qualified buyers, they aren't incentivized to give you the lowest rate possible, since they make more money the more you pay. Get preapproved by another lender — your bank or credit union is a good place to start — and bring that to the dealership. If the dealer financing beats that preapproved offer, great. If not, you're prepared to buy the car without it.
Shop Around
Get dealers competing against each other. If you're buying a new car, get price quotes at multiple dealerships within a couple of hours driving distance. For new vehicles, the cars will be the same at each dealership, so the negotiation can focus on price. For used cars, price several different options and let dealers know what you're considering. For example, if you're looking at a Toyota Camry with 20,000 miles on it, and there's a similar car with 22,000 miles offered at a much lower price elsewhere, bring that up in your negotiations. The more leverage you give yourself, the greater incentive the dealer has to meet your price. Once you decide on a price you want to pay, begin your negotiations well below that price so you give yourself sufficient wiggle room to move higher but not above your intended price.
Avoid Extras
Dealerships make a lot of profit on add-ons. If you're tempted to purchase anything besides the car, make sure it meets your needs at a fair price. Road and Track magazine notes that extended service contracts tend to be a bonanza for the dealer without necessarily protecting you against all problems your car may have. Many additional add-ons aren't needed, or can be purchased much more cheaply once you have the car.