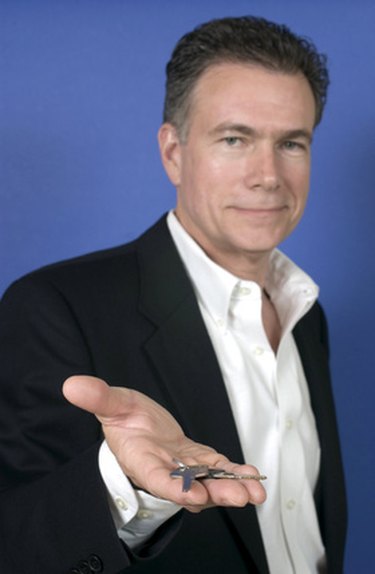 Many people who don't own a car find they need to rent one at one time or another. But not owning a car typically means they have no auto insurance. Wisdom dictates and the law states that driving without valid insurance is against the law. There are ways to rent a car if you don't own auto insurance but some of the solutions are far costlier than others.
Considerations
Renting a car involves more than simply paying for the daily cost of the rental. Once you're behind the wheel, you're responsible for any damage to the vehicle or property and bodily injury damage to others. If the vehicle receives damage while it's sitting in your driveway, a parking lot or on the street, you are also responsible if the other driver leaves the scene or Mother Nature caused the dings. Because of this, most people rely on their own insurance to handle any mishap when renting a vehicle.
Necessary Coverage
You need to cover any damage to the rental car whether it's through your own driving or an act of God. You also need liability coverage. Liability coverage pays for damage to another person's property or bodily injury caused by an accident that was your fault. Most auto policies have a clause that offers medical payments no matter who caused the accident; if you already have health insurance, you don't need this coverage. Damage or loss of your personal items is typically covered under your homeowner's or renter's policy.
Car Rental Agencies
Rental agencies offer insurance for the vehicle and liability. Since there's no quick way to check your driving record, expect the cost to be quite expensive. Each type of coverage costs per day and there are four different types. The average liability insurance from rental companies costs $7 to $14 per day as of September 2010 and provides $1 million of coverage. Collision coverage, known as collision damage waiver or optional vehicle protection, runs approximately $19 a day. This shifts the cost of repairs and loss of use back to the rental company. You can also add personal injury coverage for $1 to $5 a day and coverage for your personal effects from theft for $1 to $4 a day. Once you add them together, you might be paying as high as $42 extra per day for all coverage.
Non-Owned Auto Liability
If you rent a car very often, you'll notice the cost for liability insurance becomes quite costly. For people renting more than 25 days a year, it might pay to investigate a non-owned auto liability policy. While this covers any liability damage, you are still responsible for the damage to the rental vehicle.
Credit Cards
Charging the rental car to your credit card may have additional benefits. Some companies offer rental car insurance for free or for a nominal fee. Check your credit card for specifics before you rely on it for insurance. The amount of coverage varies from company to company. Some of the companies even offer personal liability on rental vehicles.