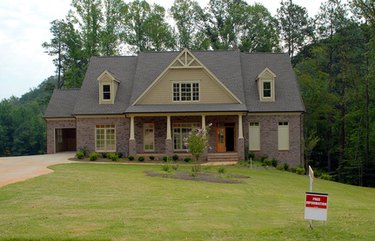 Rent-to-own programs allow prospective home buyers to lease a home and live in it, while they improve their credit rating or save up money for the down payment.
How Does Rent to Own Work?
First, a homeowner declares his property as rent-to-own. A standard rent-to-own agreement has a lease with the usual terms, plus additional considerations for owner and renter. The tenant will have the right to buy the property at any time during the lease or finish out the lease without purchasing the property. The tenant also receives a rental credit toward purchasing the home.
Lease Terms
The property owner states the purchase price of the home in the rent-to-own agreement and determines the lease period and monthly payment, which includes the base monthly rent plus the amount to be applied to the cost of the home. By signing the lease, the renter enters into the rent-to-own agreement.
Option to Buy
An option to buy the property is included in a rent-to-own agreement. The homeowner agrees to take the property off the market throughout the lease period, and the tenant pays an option consideration to the homeowner as compensation.
How to Purchase the Home
A tenant should start the process of purchasing the home by improving his credit rating through several months of timely bill payments. Then the tenant will need to contact a mortgage company and get approved for a loan. After this, the tenant will finalize the paperwork with the homeowner or real estate agent and close on the home.
Warnings
Tenants should plan to purchase the home during the lease period to avoid losing the money paid as an option consideration, up to 5% of the total purchase price of the home, according to My Rent to Own Home.com.