If you receive payments from a person or business other than traditional paychecks, they may be required to send you a tax form called at 1099. There are a few different types of 1099, listing various types of income you'll generally have to include on your tax returns. Typically one copy will be sent to you and one filed directly with the IRS.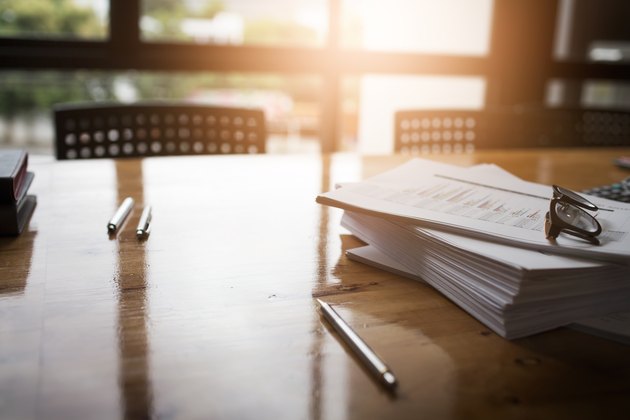 1099-DIV Forms for Stock Payments
If you receive any stock distribution payments, such as dividends, you should also receive a Form 1099-DIV from the paying company. For 1099 purposes, the distributions must be stock dividends, capital gain distributions, nontaxable distributions, or liquidation distributions paid on stock. The minimum amount that must be paid to trigger a 1099 is $10, or $600 in the case of liquidation distributions.
1099-INT Forms for Interest
The payment of interest income is the trigger for issuing the 1099-INT. Interest payments from any source — including bonds, money market accounts, or savings accounts — require a 1099-INT to be issued, as long as the amount of interest exceeds $10.
1099-MISC for Miscellaneous Payments
If you receive any "miscellaneous income" over the course of the year, you will receive a 1099-MISC. Usually, 1099-MISC is issued to workers who provide services to a business but are not considered employees, such as independent contractors or consultants. However, miscellaneous income also includes rent or royalty payments, prizes or awards such as game show winnings, and gross proceeds paid to attorneys. A 1099-MISC also reports payments to fishing boat crew members, insurance payments to physicians and health organizations, crop insurance proceeds, fish purchases paid in cash for resale, and substitute dividend and tax-exempt interest payments reportable by brokers.
1099-R for Retirement Plans
A 1099-R is used to report distributions of $10 or more from retirement plans. These include profit-sharing plans, any type of Individual Retirement Account (IRA), insurance contracts, or IRA recharacterizations. A 1099-R will usually specify if the reported distribution is taxable to the recipient, but sometimes this amount must be calculated by the individual taxpayer per IRS rules.
1099-B for Brokerage Transactions
You will receive Form 1099-B if you make any brokerage transactions. These include securities sales or redemptions, futures transactions, commodities, and barter exchange transactions. Note that Form 1099-B only lists the proceeds of such transactions, and you must supply the original cost of your purchases when you compute your capital gains and losses.
1099-S for Real Estate Deals
Form 1099-S lists the gross proceeds from the sale or exchange of real estate, generally in the amount of $600 or more.
Lesser-Used 1099s
The 1099-A, 1099-C, 1099-MSA, 1099-LTC, 1099-OID, 1099-PATR, and 1099-G are not nearly as common as other 1099s, and list income payments from more unusual sources. Specifically, these 1099s report income from the acquisition or abandonment of secured property, cancelled debt, distributions from a medical savings account, long-term care and accelerated death benefits, original issue discount, taxable distributions from cooperatives, and certain government and qualified state tuition program payments.