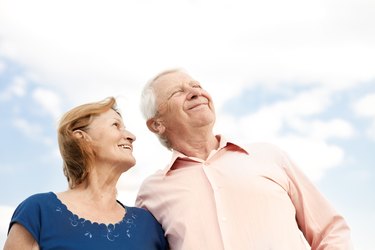 Although eligibility requirements vary by state, all Medicaid programs must follow federal guidelines. Since the basic requirements are a low household income and limited resources, certain types of life insurance policies are an asset that can affect Medicaid eligibility. A life insurance policy that has no cash value is an exempt rather than a countable asset. Generally, the maximum amount of countable assets Medicaid allows for individuals is $2,000.
Countable Assets
Some life insurance policies qualify for exemption under each state's Medicaid countable asset rules. Countable assets include cash, money in savings and checking accounts, securities, annuities, pension funds, retirement accounts and the cash surrender value of life insurance policies. Exempt or non-countable assets usually include such things like the family home, personal belongings, burial funds and small whole life insurance policies.
Term Life Insurance
Term life insurance policies have no cash value, so they're not counted toward the Medicaid assets limit. With an active term policy, your beneficiaries get a death benefit when you die as long as the premiums are paid up. Term life insurance provides coverage for a specific period of time. If your policy is cancelled, or you die after the coverage expires, your beneficiaries will receive nothing.
Whole Life Insurance
Whole life coverage continues for life and accumulates a cash value. Since you can withdraw cash from the policy, or cash it out when you cancel it, Medicaid considers this a countable asset. A whole life policy with a face value of $1,500 or less is considered exempt. The cash value of any other whole life policies you have is countable.
Prepaid Burial Expenses
Medicaid does consider a whole life policy an exempt asset if the cash value is used to pay burial costs in advance. This is one way to spend down your assets to qualify for Medicaid, especially if you need nursing home care. Your options include cashing in the policy or assigning ownership of the policy to the funeral home.
Combined Countable Assets
Even if only one spouse requires nursing home care, Medicaid will look at the couple's combined countable assets to determine eligibility. It makes no difference whether an asset is owned individually or jointly, according to the Department of Health and Human Services. Medicaid will not calculate assets such as term life insurance policies. It will include the cash value of life insurance when adding together a married couple's countable assets regardless of whose name is on the policy.