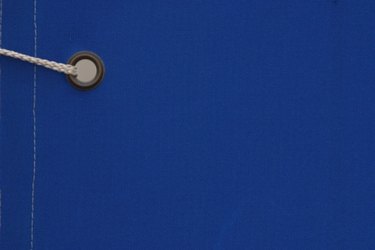 Expensive air conditioning bills can be slashed when bright sunshine is blocked from a home's windows, says John Carmody, director of the Center for Sustainable Research, in an interview with Awnings Today. Window awnings are one of the best ways to block that heat-generating sunshine. These easy-to-make awnings can be fashioned from canvas tarps and attached to the house with an uncomplicated and inexpensive system of eye hooks and tent poles. The awnings can also be used for a patio, deck or backyard shade spot. Look for canvas tarps at hardware stores.
Step 1
Measure the width of the window. Add 4 inches. Cut the canvas tarp to the width measurement, plus a vertical measurement of at least 3 feet.
Step 2
Measure the distance from the top of the window to the ground.
Step 3
Cut the wooden poles to the height of the window plus 2 inches. Hammer the nails through the tops of the poles to create dowels.
Step 4
Attach the screw eye hooks to the house above the window.
Step 5
Create grommet holes with the grommets and grommet tool in all four corners of the canvas tarp.
Step 6
Attach the tarp to the house above the windows via the grommet holes and the eye hooks.
Step 7
Place the poles in the outer canvas grommet holes.
Step 8
Cut two long lengths of heavy cord and tie them to the tops of the wooden poles. Attach the opposite ends of the cord to tent stakes that have been pounded into the ground with a hammer.
Things You'll Need
Tape measure

2 screw eye hooks

Hammer

Screwdriver

Canvas tarps

Scissors

Wooden poles

Saw

Grommets and grommet tool

2 wooden poles

3-inch nails

Hammer

2 tent stakes

Heavy cord