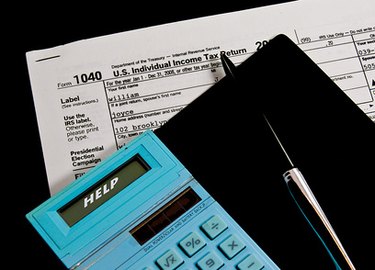 All citizens in the United States are required to pay federal, state and city (local) taxes. Failure to pay any of these taxes can result in tax liens. These tax liens are very serious. Federal and state governments have much more power to collect on these debts than regular, private debt collection agencies. State governments can garnish your wages, levy your bank accounts and even stop the sale of your property. This is true in the Commonwealth of Virginia. In order to stop a tax lien in Virginia, you must get in touch with the tax collector.
Step 1
Obtain a copy of your credit report first. This will tell you whether or not the lien has already been filed. Visit a reputable credit report website that offers a free credit report, such as Annual Credit Report. Look under "Public Records." If the lien is already filed, you still need to work out a repayment agreement, but you will likely not be able to remove the lien until the account is repaid in full.
Step 2
Collect all the documents related to the delinquent taxes. This means not only any correspondence from the Virginia collector, but also the tax return for the year in question. You should also collect your income documents, such as pay stubs and W-2s. You will likely need to these to arrange a repayment agreement.
Step 3
Contact your local office for the Virginia Department of Taxation. Speak with a tax counselor at the office. Ask to schedule an in-person meeting to discuss your delinquent taxes. Usually just a good-faith effort to repay your debts, like meeting with a counselor, will help stop a tax lien.
Step 4
Present all the documents you have to the Virginia tax collector. He will likely calculate your ability to repay your debts using your income documents. If you can come to a suitable repayment arrangement, all lien activities will be stopped. However, if you go delinquent on these taxes again, you may find the lien on your credit report.
Step 5
Ask for the Virginia tax repayment plan in writing. Stay current with your payments to avoid a lien in the future.
Things You'll Need
Credit Report

Account statement from the Commonwealth of Virginia showing amount due, for what year and when payable