Because a cashier's check is a secure form of payment, it is often preferred — or even required — over a personal check. This is especially true if you are making a big purchase, such as an automobile, or when you need to pay for services upfront, like the first and last month's rent to secure an apartment. If you're required to use a cashier's check, there are a few things you'll need to know.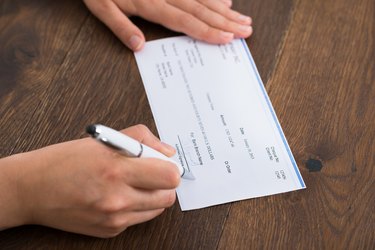 What Is a Cashier's Check?
Unlike a certified check, which is guaranteed based on the available funds of an account holder, cashier's checks are backed by the bank itself. That makes a cashier's check much less risky when compared to other payment methods, such as personal checks that can be written for more money that is actually in the bank account.
Know the Fees and Terms
Most banks and credit unions do not issue cashier's checks for free, so be sure to check with the financial institution for the terms and fees associated with the cashier's check. First Internet Bank, for example requires $5 for each cashier's check, while TD Bank charges $8 for the same service.
You'll also need to pay attention to the check's terms. Some banks and credit unions choose to place a time limit on their cashier's checks. You may see the words "Void after 90 days" written on the front of the check. In this case, you'll need to make sure you get the check to the recipient in a timely manner so he or she can cash it before the time runs out.
How to Get a Cashier's Check
Head to your local bank or credit union with the amount of cash you need for the check, as well as any extra money needed to cover the associated fees. You'll need to bring a valid form of identification, especially if you are not already a customer of that bank or credit union. Once the payment is taken care of, you'll need to let the teller know who you want the check made out to and whether or not you want a note in the memo section. The memo section is the place to write your account number if you're paying a bill, or to record what the transaction is for so there is no confusion, such as security deposit or a month's rent. The teller will take care of the rest, including signing the check.
Turn in the Check
Once the teller hands you the completed cashier's check, it is your responsibility to see that the person listed on the "Pay to the Order Of" line receives the check. You can either deliver the cashier's check in person, like when you see your new landlord to sign a lease, or mail the check, like when you need to pay a bill.