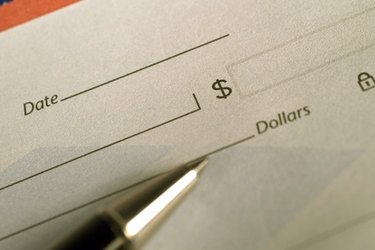 Gifts of cash via check are a common present children receive for holidays and milestones. Most young children, however, do not have bank accounts in their names. Cashing a check for a child requires a little preparation on the part of the parent, but it is a relatively simple process. Double check that you have all of the pertinent documents before you head to the bank, and bring the child with you if possible. Use this as a chance to teach your child how the banking system works.
Step 1
Establish you relationship to the minor by presenting your photo identification along with the child's birth certificate (and appropriate adoption papers if available). If possible, bring the child with you to endorse the check in person. The first visit to the bank can be an educational experience for a child.
Step 2
Have the child sign the check over to you by writing "pay to order of" followed by your full name. This should be written on the back of the check, at the top of the box in which you would normally endorse it. Have the child sign their name directly underneath this. Sign your name under theirs and hand to the bank teller to cash.
Step 3
Talk to the teller about opening a savings account for the child, which will make cashing future checks much easier. Some banks offer special accounts for children that are linked to the parent's account. This will allow you to cash and deposit checks for them as if they were your own.
Things You'll Need
Copy of child's birth certificate

Child's school report card (or Social Security card)

Your picture ID (passport or driver's license)

Adoption papers (if applicable)