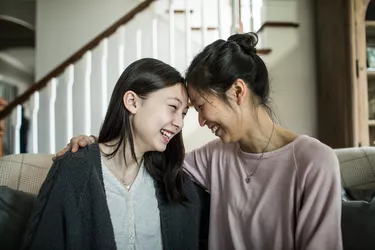 Cashing a check that's written to a minor can be a tricky process, even if the minor is your own child. You might want to contact your bank, financial institution or check-cashing service first to find out how it handles this situation because it can vary by bank. But some general rules apply as to how to cash a child's check.
How to Cash a Check Written to Your Child
Perhaps the easiest way to cash a personal check written to your child is to deposit it, then withdraw the money. BCU.) requires that you simply print the child's name on the back of the check as the payee, then enter a hyphen ( – ) and the word "minor." Then print your name followed by a hyphen and your relationship to the child, such as "parent." You would sign and endorse your own name beneath that, along with the account number to which you want to deposit the check.
But this assumes that you've taken the check to your bank and the checking account or savings account is in your name. You might be better off taking the check to the issuing bank that it's drawn on and attempting to cash it there if you or your child don't have an account.
How Can a Minor Without a Bank Account or ID Cash a Check?
A younger minor generally can't cash a check on their own, even with a bank account or ID, although there are exceptions for teenagers who are age ‌13 and older‌. A younger child will need the help of their parent or guardian.
Some banks might allow your child to make a deposit or take a withdrawal from a custodial account they hold with you regardless of their age, up to certain dollar limits. A custodial account is effectively a joint account held by an adult and a child. But other institutions, such as the Pennsylvania State Employees Credit Union allow only the account custodian – the adult – to make deposits or withdrawals.
Who Endorses or Signs the Back of a Check Written Out to a Child Under 18?
Banks, credit unions and check-cashing places will almost certainly require the signature or endorsement of the minor's parent or guardian for anything other than a deposit into a custodial account.
Where Can a Parent Cash a Check Made Out to Their Child?
BCU indicates that an adult endorsing a check for a child makes it a third-party check. As such, this particular credit union does not allow mobile app or ATM deposits of these checks. Other financial institutions might impose the same requirement. You'll have to personally appear at your bank or credit union in this case, but it's not a universal rule, so call your financial institution to find out if it allows mobile deposits or other conveniences for third-party checks.
Again, it can depend on your bank's policies, but sharing the same surname is generally not required. Many parents and children don't in this day and age. You'll be entering your relationship to the child in the endorsement on the back of the check, and this should suffice.
What Documents Will I Need to Cash a Check Written to a Child?
You'll certainly want to have photo ID, state ID, military ID or other government-issued ID with you if you visit your bank, credit union or check-cashing store in person. Having available forms can greatly simplify the process, even if it's not required. It can substantiate that you are who you say you are and that you can legally manage the money that's changing hands.
A birth certificate generally isn't required because these documents don't help to prevent fraud. Anyone can say that the child is the one who's named on the certificate. There's no way to substantiate this without an additional form of identification, such as a driver's license. It can certainly be helpful if your child is old enough to drive and has a license, but a school ID card may be acceptable as well.