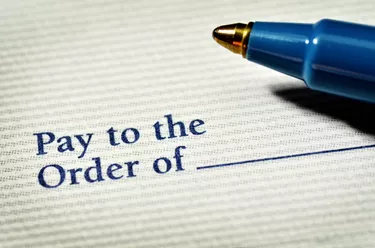 If you deal with paper or electronic checks, you could fall victim to a form of payment fraud called a fake check scam. Currently comprising ​66 percent​ of all fraudulent payment activity, these scams can come back to bite you. Cashing or depositing a fake check can put your credit at risk, as well as leaving you on the hook for fees at best and the entire check amount at worst.
What Is a Fraudulent Check?
Checks may not be the most popular method of personal payment, but they still circulate, primarily written by businesses and government agencies. But even consumers who are primarily paid via ACH by the same employer could fall victim to a fraudulent check. You might sell an item online or be approached by what seems like a legitimate offer to issue money to you.
Fraudulent checks can come in the form of paper, e-check and even cashier's checks. They look legitimate on the surface, and your bank may even let you deposit it into your bank account and make the funds available to you. A bad check can take weeks, if not months, to be discovered, at which point your financial institution will contact you and let you know.
Consequences of Depositing Fraudulent Checks
The most pervasive type of check fraud these days has someone issuing a check to someone who is asked to send back some or all of the money. You might also be asked to use the funds to purchase equipment. In another common form of check fraud, scammers hand over a fake cashier's check or personal check to purchase property, only to have the check bounce later.
Financial institutions often won't detect the issue immediately, which means you'll lose whatever property or assets you exchanged for the check. The best course of action is to refuse to accept a check, instead opting for cash or protected electronic payment methods like PayPal or Venmo. For larger purchases, meet the buyer at their own bank and have a cashier's check issued on that person's deposit account.
Cashing or depositing a fake check can put your credit at risk, as well as leaving you on the hook for fees at best and the entire check amount at worst.
Spotting Counterfeit Checks
​Faded bank logo:​ In ​position 5​ on the check diagram, there's a bank logo. This should be clearly visible on your check and not be attached via sticker or feature faded print.
​Unfamiliar bank name:​ The bank or credit union where the checking account is drawn on should sound familiar. If not, research online to make sure the lender exists.
​Check number:​ The check number should be both at the top corner and at the bottom, following the routing number and account number. These numbers should be identical.
​MICR line:​ The routing, account and check numbers at the bottom of the check are known as the MICR line. These should be printed as part of the check and not raised or shiny.
Protecting Yourself Against Fake Checks
Bogus checks aren't always easy to spot. There are some things you can do, either personally or as part of a business, to reduce your risks.
​Take your time:​ Checks can take 10 business days or more to clear. Some fraudulent checks aren't spotted until even later. Refuse check payment in any situation where you're asked to wire money or transfer funds before you can verify that the check has cleared.
​Refuse overpayments:​ When you're expecting a payment, the amount of the check should be the full payment due. Decline to accept overpayments if they come with the catch that you refund part of the money somehow.
​Refuse to send money:​ If you're asked to wire funds or purchase gift cards and money orders in exchange for a check, say no.
​Take quick action:​ If you suspect that you might have been involved in a check scam, contact law enforcement as soon as possible.
Bank employees usually can't detect a fraudulent check. If you unknowingly deposit a fraudulent check, you'll be out the money, up to the entire amount, so it's important to avoid spending the funds until you're sure that they've cleared. When accepting checks as payment for products or services, you run the risk of the check bouncing and having the product or your hard work stolen.