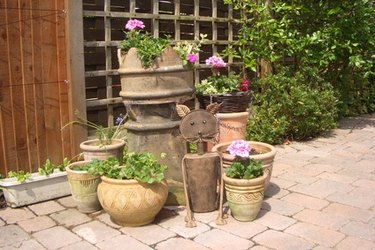 When you want to enhance and upgrade your patio, determine first how you will use the space. You may want a quiet reading zone, an active children's play area, or a barbecue and entertaining center. Your ideas can be budget conscious and reality based. Consider your weather patterns and your traffic patterns and let these cheap outdoor patio ideas kick start your imagination.
Floor
If your patio area does not exist yet, you have inexpensive options to create one. Poured concrete is the most common patio surface, but you can define a patio without pouring concrete.
You can dig an area for a pad to a depth that will, when it is finished, sit flush to the ground. Level your pad and cover it with weed cloth. Buy inexpensive concrete paving stones to fill in your patio. These stones come in plain gray or pale red. Treat them before you install them with colored concrete stain and finish with a sealer. Stains are available in a variety of colors to enliven your design. After the pavers are installed and leveled with a rubber mallet, sweep sand into the cracks to fill in the gaps.
As for yard art, decorative touches do not need to be expensive. Broken shards of tile and pottery, arranged artistically, can brighten and enliven a garden bed.
Furniture
The cheap approach is surf and scarf. Surf the Internet for furniture that will fit well into your patio and your lifestyle. Browse magazines and store garden departments. Discover your size constraints, foot traffic flow, color and design preferences. Once you know what you like and what will work, visit discount stores, big box stores, thrift stores and garage sales. Think utility first. See what is on hand and imagine how you can repaint, restore, recover. Then scarf it up at bargain prices.
A giant old spool, originally used for thick cable, can become a patio table itself when surrounded by tall bar stools.
Lighting and Shade
If your patio area has a cover, you can add lighting by stringing inexpensive holiday icicle lights.
For mood lighting or bug repelling, purchase glass light shades, the kind used to cover light bulbs on a combination chandelier and ceiling fan. These are inexpensive in home supply stores, and even cheaper in thrift stores. Pop a candle on a metal or glass tray and set a light shade on top, narrow side down.
An umbrella and stand is a portable and adjustable source of patio shade.
An arbor framed simply from lattice and braced with wood creates shade. When vines you plant grow onto and atop it, its shade deepens.
Plants
In a patio garden design plan, as with furnishings, mixing instead of matching can lend interest and charm. A variety of sizes, shapes, textures and colors of containers and plants is surprising and interesting. To add even more visual interest, inject changes in elevation. Set some plants on pedestals. Cut the bottom out of an old metal vanity chair and insert a wide flower pot inside to make a plant stand. Hang hooks on walls or nearby fences and hang baskets of flowers on the hooks.