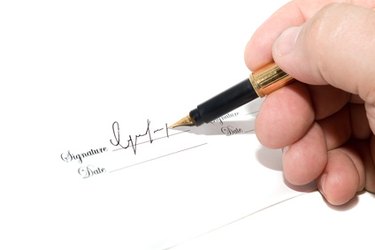 If you're a current renter under a rental agreement (lease), there is an expiration date for that agreement. Of course, expiration doesn't mean you have to move out on that date. You or your landlord or property manager can initiate a renewal at any time. Usually, renewal is done no less than 30 days prior to the lease's expiration and no more than 45 days prior, but in some cases—such as a property wanting to keep reliable tenants on-site or a change in management—this time line can differ. The good news is that you don't have to wait to initiate the renewal process.
Step 1
Know your current lease. Review your current lease approximately 90 days before expiration. If you did not obtain a copy when you signed it, contact your landlord or property manager and ask for one.
Step 2
Consider the price you pay each month and any included amenities—are you still happy there? Do you want to continue living there? If so, list anything you might want to change in a renewal lease. A change could be no change at all, as in keeping your current rental rate as opposed to the typical raise in rent. Or a change could be upgrading your apartment in some way—new flooring, new appliances or new paint, for example. You may even be able to upgrade to a larger apartment in the same complex for the same or similar rent.
Step 3
Contact your landlord or property manager at least 45 days prior to your lease's expiration in writing or call for an appointment to discuss the renewal of your lease. Bring the list of changes with you to the meeting and include supplemental information if you are trying to negotiate.
Step 4
Be prepared for an increase in rent. This is typical business. Know what you can afford and are willing to pay for your particular rental. Despite your negotiation attempt, you may decide the best thing is for you to stay at your location and pay a little more. Even if you are willing to accept a rent increase, don't show your cards with the landlord or property manager too quickly. Just know what your bottom line is.
Step 5
Make your final agreement with your landlord or property manager and get it in writing. Sign the documentation, ask for a copy of it and retain a copy for your records.
Tip
Be a good tenant—pay your rent on time, follow the rules of your lease and communicate with your landlord or property manager. It is usually more expensive for them to replace you as a tenant than to renew you, so go to them with the mindset that they are agreeable to keeping you. Be reasonable with any adjustments you want to make to your lease.