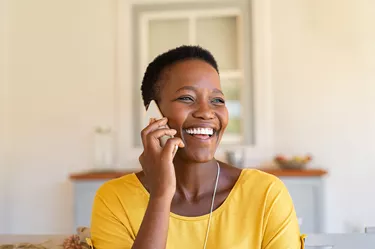 If you're among the approximate 70 percent of Americans who get a tax refund each year, you likely already know you have a variety of methods for receiving your payment. One of those is a prepaid, reloadable card called the Emerald Card. To activate your Emerald Card so you can begin using your tax refund, you'll need to call 1-866-353-1266.
Getting an Emerald Card
You'll be given the opportunity to apply your refund to an Emerald Card when you file your taxes through H&R Block. You can have the funds directly deposited into your account, have a check issued or have the money put on an Emerald Prepaid MasterCard. The benefit is simply the convenience you'll get from having your money on a card that you can then use to spend the money.
You don't have to visit a location to get a card, though. You also can't order a card through the HRBlock.com Emerald Card site, but you will be offered the opportunity to apply if you use the company's digital tax preparation product. Once you've activated the card, you'll be able to manage your account completely online.
Activate an Emerald Card
To activate your Emerald Card, you'll need to call the Emerald Card help line at 1-866-353-1266. You'll be asked to input the last four digits of your card number. Follow the prompts to activate.
In addition to activating your card, you should also set up an account so that you can manage it. You can do this at the Emerald Card login webpage. Once you're set up, you can view your transaction history, monitor your balance, make payments and transfer funds between various Emerald accounts.
If you plan to regularly manage your card, though, you may prefer the app to going to the HRBlock.com Emerald Card site every time. You can find the MyBlock mobile app in the iTunes App Store or on Google Play. Using the app, you'll be able to authenticate using touch and facial recognition, eliminating the need to keep up with a password.
Reload an Emerald Card
When you sign up for an HRBlock.com Emerald Card, you aren't limited to using it for your tax refund. You can continue to reload money from sources like payroll, government benefits, cash and checks. This gives you an option for direct deposit, saving money if you would have otherwise had to rely on a fee-based service to cash your check.
It's important to note that not all reloading services are free. If you deposit cash at a retail location providing card reloading services, you may pay a fee of as much as $4.95. Depositing a check to your card can also come with a fee. If it's a preprinted payroll or government check, those fees can be as low as 2 percent, rising to 4 percent with other types of checks.
H&R Block Emerald Advance
As convenient as the Emerald Card can be, it isn't a way to get your refund immediately. For that, H&R Block offers the Emerald Advance Line of Credit. This feature issues you a line of credit in amounts varying from $350 to $1,000, depending on your anticipated refund. This service comes with a $45 annual fee and a 36 percent annual interest rate, though, so there likely are better options.
You can only apply for the Emerald Advance Line of Credit during a limited window of time each year. This happens between November and January and the specific dates change each year. You'll need to visit a participating H&R Block location and apply for the program.
Once approved, you'll be able to use your line of credit, paying the greater of $25 a month or 4 percent of the balance. If you pay down your balance by Feb. 15, you'll qualify to continue to use your line of credit year-round.