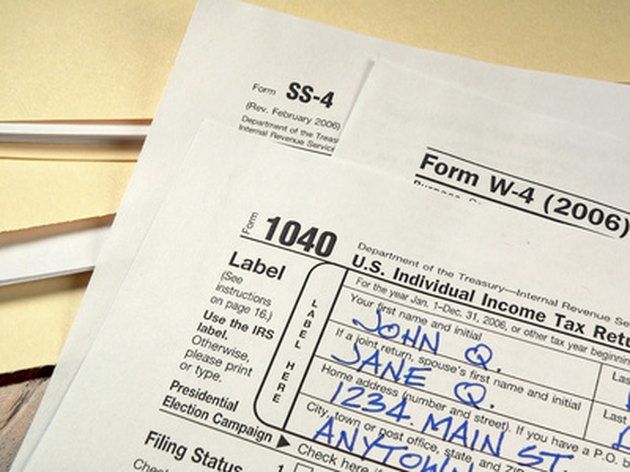 When you get ready to file your taxes and you only have to file taxes with form 1099-Misc, you need to know where to enter this income. Besides knowing where to enter the information, you must know what other tax obligations you have that pertain to the 1099-Misc form. If you are an independent contractor who receives a 1099-Misc, you could be subject to self employment taxes and may be able to claim expenses on Schedule C that pertain to the business you conduct.
Schedule C Profit and Loss Form Business
Step 1
Start the Schedule C by filling in the top portion of the form with your personal information. In Part 1, enter the income that you have entered on the 1099-Misc. On line 7, total lines 1 through 6 to find your gross income.
Step 2
Enter all expenses on lines 8 through 27 that apply. All expenses must relate directly to the business that you preformed. For instance, an artist may claim paints and studio rent if it is for work only. A writer may claim fees for office supplies that pertain to the business.
Step 3
Total the expenses on line 28. Subtract line 28 from line 7 (gross income) and enter that amount on line 29. Continue entering the amounts you have on lines 30 through 32. If you have a profit or loss on line 31, enter this amount on line 2 of the Schedule SE and on line 12 of the 1040 form. Enter a loss in parentheses to indicate a negative amount.
Schedule SE Self Employment Tax
Step 1
Follow the chart on the Schedule SE to see if you must file the short form or the long form. Most people will use the short form unless their income is over $106,800 or if they are a member of a religious order, such as a minister.
Step 2
Enter any profit or loss that you may have from a farm profit (or loss) if this applies on line 1a. Complete line 1b if it applies. Line 2 is already filled in with the total from the Schedule C. Add lines 1a, 1b and 2 together and enter this total on line 3.
Step 3
Multiply line 3 by .9235 and enter the total on line 4. If the total is less than $400, you do not owe any self employment taxes. If the total is more than $400, continue to line 5 and 6. Multiply line 4 by .153 if the total on line 4 is $106,800 or less and by .029 if line 4 is more than $106,800. Enter the result on line 5 and on line 56 of form 1040. Divide the total on line 5 in half and enter the result on line 27 of the 1040 form and line 6 of the Schedule SE.
1040 Form
Step 1
Enter any other income you have to report on the 1040 form. This includes income such as taxable interest, W-2 forms, tax exempt interest, capital gains or unemployment compensation.
Step 2
Complete the adjusted gross income on lines 23 through and 37. Complete the taxes and credits on lines 38 through 55. Enter any other taxes you have on lines 56 through 60 and any payments on lines 61 through 71. If you made any estimated taxes during the tax year for the 1099-Misc income, write this amount on line 62.
Step 3
Continue the return until you have completed lines 72 through 76 to determine if you will owe money or if you have a refund coming. Sign and date the return. Send the Schedule C, Schedule SE, 1040 and all other schedules and 1099-Misc forms, along with any W-2 forms, the Internal Revenue Service address listed for your particular state.
Tip
File your state return using the adjusted gross income on line 37 of the 1040 form.
Things You'll Need
1099-Misc

1040 form

Schedule SE

Schedule C

All other tax documents needed