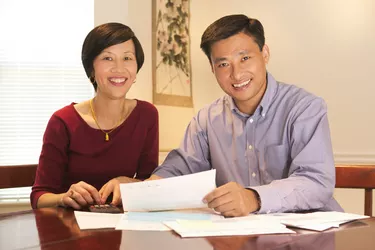 If you wish to put a piece of property in your child's name, the process is rather simple--it simply requires you to "sell" the house to him, usually for $1. If you wish to transfer a property with an existing mortgage to a child, the process is more challenging. This does not necessarily require a refinance, but that is the easiest way to do so.
Step 1
Obtain a blank quit claim deed and quit claim the child onto the property. This will add the child as a vested owner. He is now a co-owner on the property. To file the quit claim, you must both fill out the form and then have it witnessed, notarized and recorded at the Registry of Deeds.
Step 2
Collect the income documents for your child. If you are truly letting him assume the property and the mortgage debt, you'll need to get the home refinanced under just his name. The child must have valid income to support a refinance.
Step 3
Calculate your child's debt to income ratio. Divide all of his credit-reportable monthly bill payments by his total monthly gross income. Most lenders wan to see a DIR below 40 percent.
Step 4
Make sure your child's credit will qualify him for a refinance. See Resources for a free copy of a credit report. You should also have him pay for a FICO score, a three-digit number between 300 and 850 that represents his total creditworthiness.
Step 5
Research refinance lenders. If your child has an excellent credit score (above 720), you should look first at credit unions and banks. These institutions often have the most competitive rates and programs. If your child's credit score is lower than 720, you may need to broaden the search to include finance companies as well--like CitiFinancial.
Step 6
Review several mortgage options, and choose the one that most benefits your child's long-term goals (staying in the home, repaying all debts, selling the home). Have the child tell you when the closing is scheduled (you are no longer a part of the refinance process since he is the only one on the loan).
Step 7
Fill out another quit claim deed to take yourself off the house after the refinance is funded. Make sure to fill it out accurately and then have it witnessed, notarized and recorded. You have officially transfered your mortgaged property to your child.
Things You'll Need
Existing mortgage paperwork

Income documents for child (pay stubs, W-2s)

Current mortgage statement