If your financial records aren't in great order, you might need to make some phone calls and pull a copy of your credit report to find out what debts you owe. You might also need to conduct research if you've changed your address or have debts that have been sold. Once you learn what you owe, you can set up a plan for paying back your debts and becoming debt free.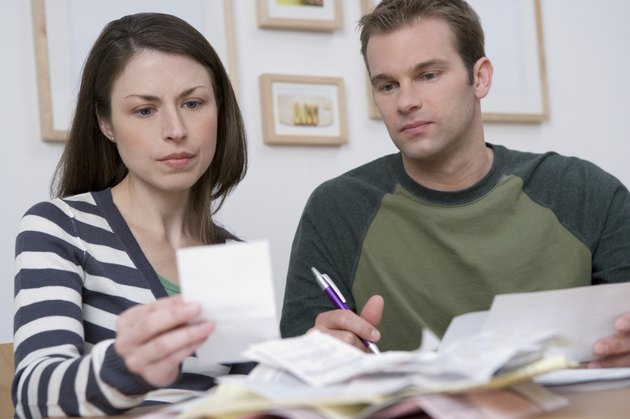 Have an Organizing Session
Gather up all your monthly statements for your mortgage, credit cards, auto loans and other debts. Compare what you find to a master debt checklist, such as the one from Compass, to help jog your memory for anything you've forgotten. You may have debts in the following categories:
credit cards
car loans
mortgages
debts to family or friends
small business loans
college loans
overdue dental and medical bills
personal loans from the bank or credit union
List each loan, the lender and the total amount due as shown on the most recent statement. If you can't find the amount or don't have the most recent statement, phone the creditor to ask for your balance.
Obtain Your Credit Reports
Find out what you owe by obtaining your credit reports. To get a more complete picture, obtain a copy of your report from each of the three principal credit bureaus because they may have different information. Contact Annual Credit Report, as the Consumer.gov website recommends, by logging on to AnnualCreditReport.com or calling 1-877-322-8228. You can obtain a free copy of each bureau's report every year.
Warning
The information on your credit report may not be completely current. Once you locate your debts, call the lenders for the correct balances and request online access for the future.
Find Debt that's Sold
You may find debt on your credit report that's been sold, rather than just gone to an agency for collection. According to Bankrate's Steve Bucci, this typically doesn't happen until the debt is at least six months overdue. Your credit report might list the original creditor, such as a utility, when the debt actually belongs to a different creditor.
Finding out who owns actually owns the debt can be difficult, Bucci states. He recommends calling your original creditor to ask who owns the loan. If you get an answer, contact the owner to find out how much you owe.
Warning
If you can't find out who bought your loan, you may have to wait until you get a bill or until the new owner shows up on your credit report.
Once the new owner is listed on your report, you can call to ask for the balance due.