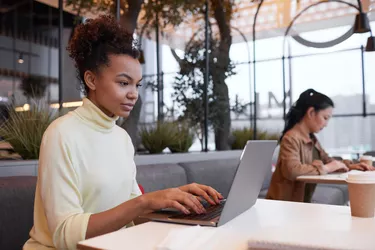 Relocation, job changes and changes in financial priorities can lead people to open more than one bank account. If you are wondering whether any of your old accounts, or those of a deceased or incapacitated family member, are still active, take action. You or your loved one may have money left in those accounts. There is also the risk that an open, but neglected, account could be targeted by an identity thief or other scammers, possibly creating legal and financial problems for you or your family.
In most cases, the easiest way to determine whether an account is still active is to try to log in to the bank's website or to use an ATM card to check a balance. If neither of these actions works, you are unsure of the name of the bank or banks or you or your loved one never established an online account, some detective work may be in order.
Gather Bank Documentation
Put together a list of banks and credit unions where you did business over the years, keeping in mind that your bank may have consolidated with another bank or changed names. Having bank names, account numbers and any other key information, such as the branch where you or the other party normally banked or other names on joint accounts, can be helpful in the verification process.
Here are some places where you might find bank documentation:
Emails and text messages from your bank
Canceled checks and bank statements (online and physical copies)
Old checkbooks may have deposit slips or carbon copies of checks printed with account numbers
Old passbooks for savings accounts
Direct deposit authorizations provided to employers or clients
Banking information provided to payment services, such as PayPal, or investment accounts to facilitate the transfer of funds
Loan documents
Copies of loan, credit or rental applications
Bank or ATM receipts
Contact Friends and Family
Canceled checks and confirmation of electronic drafts and deposits usually have the name of the bank to which they were deposited as well as the payee's account number printed or written on them. Friends and family members who might have sent money via check or bank draft may be able to check their online accounts for scanned copies of old checks or drafts that provide the information you need.
Have Identification Ready
Once you've gathered the documentation you need to hunt down the accounts, make sure that you are prepared to establish your identity, as well as your right to request information about somebody else's accounts. Typically, a bank will request photo identification issued by a government agency. It may be wise to have more than one form of photo ID handy, such as both a driver's license as well as a passport. According to the FDIC, if you are acting as an executor of an estate, or because you have power of attorney for an incapacitated friend or family member, you will need to supply documents showing that you are legally allowed to act on behalf of the estate or the other person.
Contact the Bank Directly
Once you have bank names and account numbers, begin contacting the banks directly. Due to privacy concerns, you may find it difficult to confirm the status of an account over the phone. If possible, try to schedule an in-person meeting with a bank manager who can review your documents to verify your identity before giving you the information that you need.
If you have a power of attorney or are the executor of a will, keep in mind that the bank may have its own review process that must take place before the bank works with you. An attorney may be able to assist you with initiating this process.
Search Escheatment Databases
If a bank or credit union has closed an account with money still in it, it is required to turn the money over to an unclaimed property administrator. According to U.S. News & World Report, the National Association of Unclaimed Property Administrators operates MissingMoney.com and Unclaimed.org. You can either search for money left in old accounts directly on these sites or the sites will direct you to the unclaimed property database for the state where the bank operated. The National Credit Union Administration likewise keeps a database of unclaimed funds in old credit union accounts in its Unclaimed Deposits Listing.