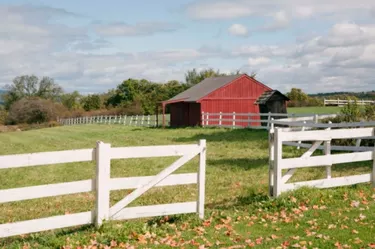 Vacant land is an asset. If you own vacant land with no liens (loans or mortgages) against it, you may be able to refinance the land to pull out equity. An equity loan would be the type of loan offered, since the loan is based on equity in the land. Since the mortgage meltdown, many higher risk loans have been eliminated. Land loans are considered high risk since no improvement has been made to increase its value, it is easy to "walk away from" if finances get tight.
Step 1
Go to a credit reporting agency to get credit reports. (See Resources). Land loans may be hard to find, so looking your best on a loan application will be very important. Check credit reports for errors, duplications or accounts you do not recognize. Mistakes can decrease your credit scores. Fix errors early on before you go to visit a lender.
Step 2
Have a good idea of the value of your property. This may mean having an appraisal done just for your own information. Your bank may be the best place to start your lender search. If your bank would entertain this type of loan, you can probably use the appraisal there. Gather your income documentation (two years of W2s, pay stubs, cash asset proof, deed to the land and survey of the land).
Step 3
Call the bank that handles other accounts for you. They are most familiar with your savings and banking habits. Make an appointment with a loan officer to discuss an equity loan against your land. If your tract of land is large acreage, you may be out of luck. Banks do not want to tie up assets on something that would be hard to sell in case of foreclosure. Smaller tracts that can be sold to build on is more appealing. The loan officer will discuss with you the percentage of the value of the land that may be offered. Be prepared to consider around 50 percent of the value of the land. (Example: If the actual value of the land is $60,000, he may offer you $30,000). Also, be prepared to discuss the loan's purpose. If you are paying off other debts, your debt ratios will be improved. The bank would look favorably at this.
Step 4
After assessing your credit and income documents, the loan officer will take a loan application. If so, give the information requested and allow him to get a tri-merged (all credit bureau reports consolidated into one) credit report with scores. He will prepare a "good faith estimate" of costs involved in doing the loan for you. Expect a higher rate than home loan rates, since land loans are higher risk to the bank. A full loan package that will require your signature and date are next . Discuss your appraisal and value with him and give a copy of the appraisal containing the appraiser's name and contact number.
Step 5
Comply with any requests made by your lender regarding updating of documents as the loan is processed and wait to hear that your loan is clear to close. The lender will set up your closing.
Tip
If your bank will not handle this type loan for you, try your credit union. Credit unions are smaller and tend to be a little more "customer friendly" with individualized loans.
Things You'll Need
Deed to land

Survey of land

2 years proof of income, W2s

30 days of pay stubs

Banking and asset information (401K, savings, CDs)

Appraisal on land