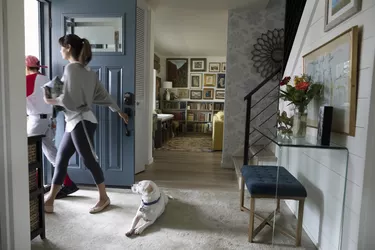 Creepy-crawly termites could be hard at work chewing through the wooden parts of your home. These insects can even fly, particularly in springtime when they swarm. And if you live in a warm, humid climate, you may face a tougher battle keeping these creatures at bay. Although it's not technically an insurance policy, a termite bond may be your best protection against termite damage, and it may be well worth it just to have peace of mind.
Tip
A termite bond is a legal contract between you and a certified pest control company that ​outlines the details of termite inspections and treatments​, which the company provides on a yearly basis.
A termite bond is a legal contract between a pest control company, which must be a certified company, and its client for termite control. This bond outlines the details of the services that the pest control company provides as well as the ​schedule​ of when certain services will be provided, such as annual inspections. A termite bond also covers the ​terms for termite pretreatment​.
If you pay for a termite bond, look at the contract's wording because the bond may be transferable to a new homeowner if you sell your home, or it may be nontransferable. If you're thinking of selling your home, a transferable termite bond can be a big plus when negotiating the sale.
Termite Bond Vs. Termite Letter
You may have heard of a "termite letter," which is not the same thing as a termite bond. The termite letter is actually a ​wood-destroying insects and organisms report​, which a licensed inspector writes to describe current and past infestations of termites and the damage the insects have caused to a home or other structure. This report also recommends treatment for any existing infestation. If you're qualifying for certain mortgages, you have to provide this report – called a termite letter – to your lender.
Although a termite letter describes termite damage and suggests treatment for existing termites, it is not a termite bond, which is a contract for ongoing inspections and treatments.
What Does a Termite Bond Cover?
Certified pest control companies outline different services in their termite bonds, so you may want to do a little comparison shopping before signing on the dotted line of a contract.
These are some of the features to look for in a termite bond:
​Term.​ Contracts may be for any term length, but they're typically for one or two years.
​Initial inspection.​ As a benchmark of sorts, this inspection establishes whether there are signs of current termites.
​Frequency of inspections.​ Ongoing inspections may be quarterly or annually.
​Treatment.​ If an inspection reveals the presence of termites, the treatment is at no cost.
​Re-treatment.​ After treating for termites, if a subsequent inspection reveals more termites, the re-treatment is also at no cost.
​Damage repair.​ Some termite bonds include a repair bond, which guarantees that the pest control company will repair any damage that may be caused from a subsequent infestation after the company has already treated for termite damage.
What Are Termite Bond Costs?
Termite bonds vary in their costs, depending on the pest control company that issues the contract. Costs are determined by numerous factors such as the services provided, the type of structure, the size of your home, the length/term of the bond and the location. For a residential home, you'll typically expect to find a cost range between ​$700 to $1,000​, which includes the initial termite inspection cost and subsequent services. If you have a basic termite bond, you may pay only ​$300-$400​ each year.