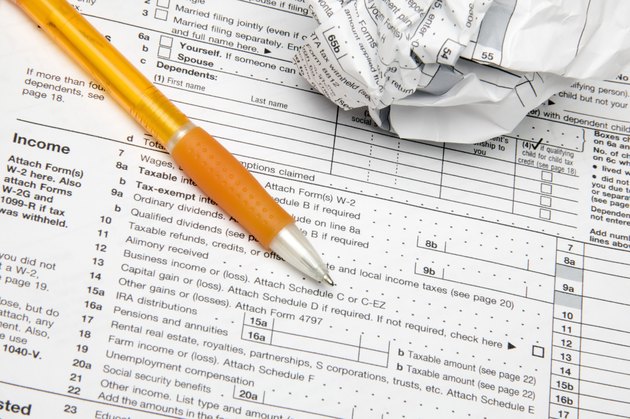 In 2009, two out of three taxpayers filed their 2008 tax returns electronically. Filing taxes online increases efficiency for both taxpayers and the Internal Revenue Service (IRS). However, filing your taxes electronically means you can't just sign the form and send it off. The IRS requires that electronically filed returns be signed using either a Personal Identification Number (PIN) or an Electronic Filing PIN (EFP).
Self-Selected PIN
A PIN allows you to confirm your identity with the IRS when filing your return. It's a five-digit number that you select when filing your return. The next year you have the option of reusing your five-digit PIN to confirm your identity, or you can provide your adjusted gross income (AGI) from the prior year, if you do not remember or cannot locate the PIN you used before. Review the eligibility requirements for a self-selected PIN to confirm whether you are eligible. Among other requirements, you must be eligible to file Form 1040, 1040A, 1040EZ or 1040-SS(PR). Full requirements are listed on IRS.gov. Contact the IRS if you do not have access to your prior year's information. The customer service representative will verify your identity by confirming information from your prior filings. You can provide your prior year's original AGI or PIN over the phone or elect to receive a transcript in the mail.
Electronic Filing PIN
If you are unable to locate your prior year tax information, or if your information is rejected during an electronic filing, you can request an EFP. You may request an EFP online, at IRS.gov, or call 866-704-7388. You will need to have the following information available to receive an EFP, which you can use in place of the self-selected PIN or your AGI: Social Security number (or Individual Taxpayer Identification Number), first and last name, date of birth, filing status and mailing address (as it appeared on last year's return).
Practitioner PIN
Beyond the self-selected PIN and EFP, the IRS allows your return to be signed with a Practitioner PIN. The IRS has additional information about this method on its website (see Resources). Tax preparers who have received authorization from the IRS to file tax forms electronically are called electronic return originators (EROs). EROs are eligible to use this method when electronically filing taxpayer returns. The IRS details the responsibilities for both the ERO and the taxpayer when using this method. This information is located on page 2 of Form 8879 (IRS e-file Signature Authorization).
Tips
PINs are individual-specific. If you are married and filing jointly, you will each be required to provide a PIN. If your return gets rejected, an incorrect PIN or EFP could be to blame. Review IRS Publication 1346 for more information on rejection codes. The publication is available online at IRS.gov/efile/article/0,,id=210656,00.html.