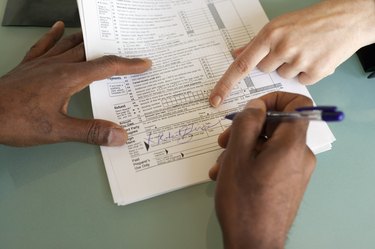 If you are just commuting to your job from your home, you cannot claim a deduction on your taxes for the miles you drive. However, there are certain miles you may be able to deduct.
Independent Contractors
If you work as an independent contractor, the miles you drive to and from your contract work sites can be deductible as business miles or non-deductible commuting miles depending on the circumstances. Consult a tax professional or an Internal Revenue Service (IRS) Publication for specific details.
Miles Driven at Work
If your employer requires you to have a car and use it during your job -- not just to get to your job -- you can deduct those miles as a job expense.
Working Multiple Jobs
If you work multiple jobs, you can deduct the mileage you travel from one job to another, but not the miles you drive from your home to your workplace or vice versa.
Business Mileage Rate
The mileage rate for business miles was 55.5 cents per mile in 2012 and 56.5 cents per mile in 2013. The rate is adjusted each year for inflation.
Function
The business mileage expense falls in the miscellaneous expense category, meaning you must subtract two percent of your adjusted gross income from the total. In addition, the deduction is an itemized deduction, so you cannot claim the standard deduction.